Impacts from September 2013 Flood - Old Fall River Road, Alluvial Fan and Trails

Select this link to learn More »
Mountain Driving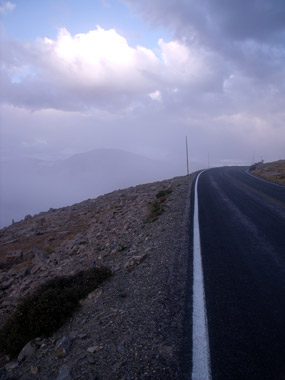 NPS photo by John Marino
Driving in the mountains provides many challenges. Steep roadways combined with less oxygen at higher altitudes can place additional demands on any vehicle. By following a few guidelines, you can help your car stay healthy at the park's higher altitudes:
Use lower gears while traveling downhill. You can slow down your car without wearing down the brakes. If you smell your brakes, pull over, let them cool off and test them before proceeding. Do not drive if the brakes are not working properly.
If the vehicle is losing power while traveling uphill, use a lower gear to help prevent power loss.
After stopping, let your car's engine run a minute before turning off the engine.
Do not use air conditioning. It contributes to power loss.
If the vehicle is losing power, has a rough-running engine or will not start, it may be experiencing vapor lock. If you suspect your vehicle has vapor lock, let it sit for 30 minutes. Loosen the gas cap and open the hood. If possible, remove the air filter. Try restarting the engine after 30 minutes.
If your engine dies, try to pull into a turnoff.
There are no service stations in the park. If you need towing or road service, notify the park by using an emergency phone or getting a message to a ranger station or visitor center. Towing and road service are available from Estes Park or Grand Lake.
Slower drivers should use the park's pullouts to let other vehicles pass.
Did You Know?
If the current amount of total nitrogen deposition measured at the high-elevation monitoring site in Rocky Mountain National Park (3 kg/ha/yr) was the same throughout the park, the amount of airborne nitrogen entering the park would be equivalent to 35,500 twenty-pound bags of fertilizer. More...