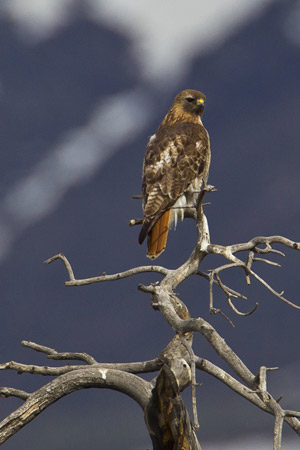 NPS/Schonlau
Raptor Closures
Updated March 1, 2015
Lumpy Ridge Raptor Closures
Each year, from approximately March 1 through July 31, Rocky Mountain National Park initiates temporary closures in certain areas of the park to ensure birds of prey (raptors) will be undisturbed during their breeding and nesting seasons.
Closure notices will also be posted at key access points in the park.
As breeding and nesting data are collected, additional closures may be necessary, or closures may be lifted.
Twin Owls, Rock One, Batman Rock, Batman Pinnacle, Checkerboard Rock, Alligator Rock, Lightning Rock, Thunder Buttress, The Parish, and Sheep Rock are currently CLOSED.
When closed, the closures include the named rock formations and the areas surrounding the base of the formation. This includes all climbing routes, outcroppings, cliffs, faces, ascent and descent routes and climber's access trails to the formation.
Areas not listed above are presumed to be open. These closures will be lifted or extended as conditions dictate.
View a printable Poster of Closures.
Bald Eagle Closure
Colorado River--Closed mid-November through mid-March. Closures will be lifted or extended as necessary.
The Colorado River and a zone 300 yards wide on both sides of the river are closed to human entry from mid-November through mid-March. Hiking on Ranger Meadows Loop trail, outside the closure, is permitted.
This closure is needed to protect bald eagles and their habitat. Approximately 12-15 bald eagles come here each winter to live and hunt for fish along these open sections of the Colorado River. Bald eagles are a protected species. When food is scarce and temperatures are cold, bald eagles waste vital energy fleeing from human disturbance.
For a map of the area, click .
Your cooperation in obeying this closure is appreciated and required by federal regulations. Violators will be fined and prosecuted.