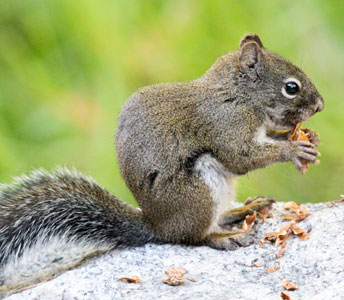 NPS
Pine Squirrel or Chickaree
This is the smallest tree squirrel with an average length of about a foot long. Its coloration ranges from rust-red to gray, and its tail is outlined with a broad black band edged with white. It is an extremely vocal squirrel, chattering, stomping its feet and scolding any intruders to get them to leave.
It lives mostly in forests of middle elevations in the park. It favors the spruce-fir, Douglas-fir, or lodgepole pine areas to that of the ponderosa pine. It requires cones for food and prefers damp and cool areas to store pine cones. Chickarees are very territorial and may defend their areas with physical force.
They leave piles of litter which can reach 10 yards across and 32 yards deep. Cones are stashed in this debris called a midden. Chickarees are active during the day and then retire to their nests at night. Nests may be on the ground, on a tree branch, or inside hollow trees.
Chickarees usually mate in April. The gestation period is about 40 days with one to six young being born. They do not leave the next until they are about one-third grown.