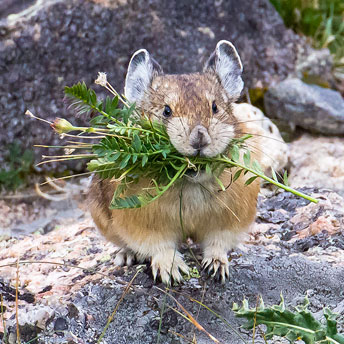 NPS/Ann Schonlau
Pikas are herbivores and eat a variety of plants including sedges, grasses and wildflowers. After breeding season, pika activity intensifies as they must make the most of a short tundra growing season. The maximum life span of a pika is three to seven years.
Natural Farmers
Pikas do not hibernate, so they must spend the short alpine summers gathering food for the winter ahead. This frenzied activity consists of gathering large quantities of plants in their mouths and scurrying back to designated storage areas called "haystacks" to let the plants dry. Haymaking is their primary activity, and this is when pikas become extremely territorial and vocal to defend their haystacks. They can remain active all throughout the day if the outside temperatures stay cool enough.
When winter arrives, pikas bring all of their haystacks into their dens and will remain in the burrows most of the winter. One pika must gather enough food to fill a bathtub. Their survival depends on a successful harvest as they remain active underneath the winter snows.