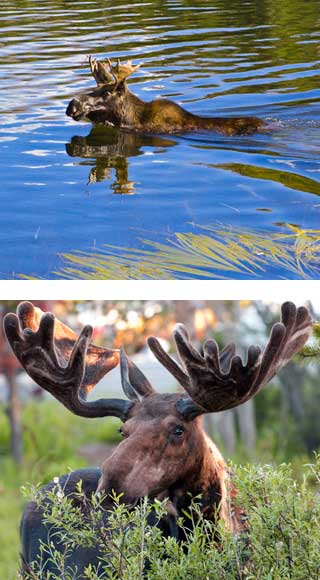 NPS
Physical Description
Moose (Alces alces) are the largest members of the deer family. On average, an adult moose stands between five and seven feet high at the shoulder. Large males can weigh as much as 1,500 pounds while females are roughly three-quarters of this size. Both sexes have chocolate-brown fur, a humped shoulder, a bulbous nose and a ball of skin, called a "bell," that hangs from their neck.
The long legs of moose allow them to travel through deep snow and even swim in deep water. They also use their legs to kick predators or maneuver over obstacles on the ground.
Males, called bulls, grow large palmate antlers which can reach five feet across and weigh up to 77 pounds. Bulls use antlers during the fall mating season to spar or fight with other males as they compete for mates. Females, called cows, do not have antlers, but they select a bull based on his antler size.
After the mating season, bulls begin dropping their antlers in the late fall to conserve energy for the winter. The antlers begin to grow again in early spring. They take three to five months to fully develop and are covered with velvety skin during this time. The size and growth of antlers depends on diet and age. Symmetrical antlers reflect the general health of the bull. Antlers typically grow back larger each year.