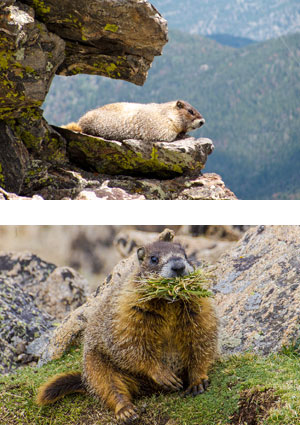 NPS
Life History
Yellow-bellied marmots live in colonies of 10-20 individuals. They dig elaborate mazes of burrows underneath high elevation meadows and rocky fields. One male may protect a harem of females in a colony. Mating occurs in spring when they emerge from hibernation, and litter sizes average three to eight pups per female. As yearlings, both males and females leave their birth colony to form a new one and are very susceptible to predation. Roughly half of young marmots will survive their first year.
A marmot's day consists of morning and evening feedings, while they spend the middle of the day and nights hidden in their burrows.
Marmots are omnivores and eat grasses, flowers, insects and even bird eggs when available. While feeding out in the open, one marmot stands as a sentinel and whistles sharply when danger is near. This gives each colony member a chance to escape into the nearest burrow entrance. When above ground, marmots spend much of their time fattening up and resting in the sunshine during the short growing season.