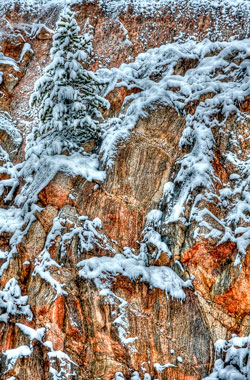 NPS
The Beginning
The park's oldest rocks were produced when plate movements subjected seas sediments to intense pressure and heat. The resulting metamorphic rocks (shist and gneiss) are estimated to be 1.8 billion years old. Later, large intrustions of hot magma finally cooled about 1.4 billion years ago to form a core of crystalline igneous rock (mostly granite).
Paleozoic Era
During the long Paleozoic Era, the park area frequently submerged, lifted up and eroded.
Mesozoic Era
Early in the Mesozoic Era, approximately 100 million years ago, dinosaurs roamed the shoreline of a shallow sea which extended from the Gulf of Mexico to the Arctic Ocean. Animal remains were deposited in layers of sand, silt and mud. The resulting sedimentary rock layers (including fossils) are now exposed in the foothills to the east of the park.