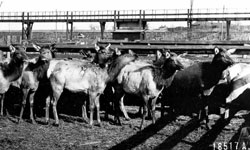 NPS
Elk History in Rocky Mountain National Park
North American elk, or wapiti, were once plentiful in the Rocky Mountain National Park area. As Euro-Americans settled the Estes Valley, they hunted elk intensively sending much of the meat to market in Denver. By 1890 few, if any, elk remained.
In 1913 and 1914, before the national park's establishment, The Estes Valley Improvement Association and United States Forest Service transplanted 49 elk from Yellowstone National Park to this area. Around the same time, an all-out effort began to eliminate predators - including the gray wolf and the grizzly bear. The resulting decrease in predators and hands-off management of elk hastened the recovery of Rocky's elk population. The population grew to record high numbers in the late 1990's causing deterioration of vegetation and other wildlife communities.
The current Elk and Vegetation Management Plan addresses these issues. The plan's goal is to maintain a more natural population of 600-800 elk in the park's low-elevation valleys during the winter. See the Elk and Vegetation Management page for more information.