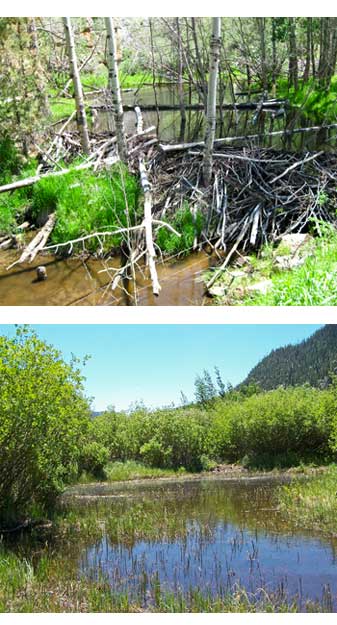 NPS
The Busy Beaver
Beaver are considered to be "nature's engineers" because of their dam building activities. Shrubs and trees (especially willow and aspen) become building material. They use their long, front incisors to gnaw down trunks and branches. Dams can reach heights of seven feet and lengths of 1000 yards.
The pond created by the beaver dam protects the colony from predators and provides good habitat for a wide variety of other plants and animals. When there isn't enough building material left, the beaver colony moves to a different location, allowing the habitat to recover. In the long-term, an abandoned beaver pond may become a meadow and even one day it may become a forest.
Scientists regard beaver as a keystone species, which is species that modifies the environment in such a way that benefits the ecosystem and encourages the presence of other species. Building dams and creating or expanding wetlands dramatically alters the landscape which provides habitat for a multitude of other water loving species.
Beaver are most frequently associated with streams in the park. They generally prefer areas that are not too steep, with a stream gradient of less than six percent. A one percent decrease represents a decrease in altitude of one foot for every 100 feet of distance.
Beaver populations have declined in many areas of Rocky Mountain National Park since the 1940's. Beaver surveys in the past 10 years indicate that beaver are rare. Recent park surveys suggest that beaver occupy only 10 percent of the most suitable stream side habitat in the park.