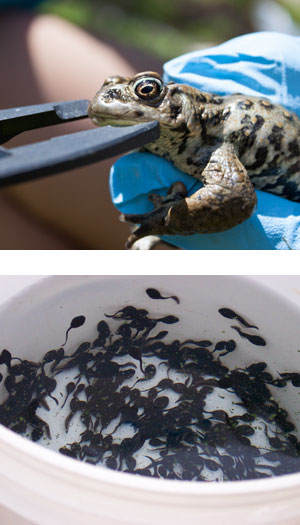 NPS
Saving the Boreal Toad
The park's boreal toad population is at risk because of a precipitous decline over the last thirty years. This animal is now absent from much of its historic range within the park. Amphibian surveys and park records collected since 1915 document boreal toads breeding at 20 sites and present through observation at four additional sites (Corn et al. 1997, park files)*. In recent years, the number of breeding sites has greatly decreased. During the past 15 years, breeding has only been documented in six areas within the park. The park monitors all these sites on an annual basis.
The chytrid fungus Batrachochytrium decdrobatidis (Bd) is thought to be a major factor in this decline. This fungus is parasitic and attacks the keratin and skin cells of amphibians. This reduces the animal's ability to absorb water and electrolytes which fatally dries their skin.
The boreal toad has been on Colorado's endangered species list since November 1993. It has also been petitioned for federal listing.
Rocky Mountain National Park is part of an interagency Boreal Toad Recovery Team and Translocation Working Program in conjunction with Colorado Parks and Wildlife (CPW) and the USGS Biological Resources Division. This group follows specific guidelines for actions related to boreal toads. In 1995, Rocky's team started contributing toad stock to CPW's captive toad breeding program. In 2014, the numbers of tadpoles released was 8,610. Mark-recapture metamorph surveys have been conducted using Visual Implant Elastomer (VIE) in an effort to quantify the number of tadpoles that metamorphose.
* Corn, P.S., M.L. Jennings and E. Muths. 1997. Survey and assessment of amphibian populations in Rocky Mountain National Park. Northwestern Naturalist. 78: 34-55.