Air Quality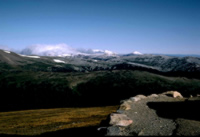 NPS Photo
Visitors to Rocky Mountain National Park marvel at the deep blue skies, cotton clouds, and fresh air (though some visitors might declare it too thin). Park managers aim to maintain high standards of air quality. Research and monitoring are showing the park's air quality is affected by air pollution coming from a variety of human made sources. Air pollution in the park reduces visibility, increases ozone levels, and causes excess nitrogen deposition.
To get an "in depth" look at air pollution, visit the National Park Service Air Resources web pages or watch a short video on air quality in the park.
Visibility
Reduced visibility is a basic indicator of pollution in the air. Current visibility in the park varies between 30 to 90 miles, however, there are days when visibility is more than 200 miles. The State of Colorado is working to reduce air pollution through strategies including engine regulations, vehicle standards, and power plant controls which should improve visibility conditions in the park.
Ozone
High ozone levels can have an immediate health effect on park visitors. Individuals with preexisting respiratory conditions such as asthma or emphysema may be affected when exerting themselves, especially in the park's high elevation environment. Ozone advisories are announced when levels are expected to reach unhealthy levels and are posted at the visitor centers and entrance stations.
Since ozone is produced by the interaction of nitrous oxides, sunlight, and heat, the park is prone to high ozone levels on warm, summer afternoons and evenings. Car exhaust from Front Range communities is a main source of nitrous oxides.
Also, there are 11 different plant species in the park that are known to be susceptible to injury from high ozone levels. A five-year study from 2006 to 2010 documented ongoing leaf injury from ozone in the park.

Nitrogen Deposition
Nitrogen is transported by wind, combined with moisture in the air, and then deposited in the park by rain or snow. Although nitrogen is an important part of the park's ecosystems, deposition of excess atmospheric nitrogen at fifteen times the natural rate is impacting natural resources.

Three-quarters of the park is above 9,000 feet where high elevation ecosystems, developed under low nutrient conditions, are especially susceptible to excess nitrogen. Within these ecosystems, alpine tundra, aquatic plants, soil and water quality are most affected. Scientists are also concerned that excess nitrogen may promote non-native plants and reduce forest health.

Sources of human made or excess atmospheric nitrogen include power plants, vehicle exhaust, oil and gas production, wastewater treatment plants, landfills, fertilized crops, and livestock production, as well as municipal and residential activities.

The National Park Service, State of Colorado, and Environmental Protection Agency are working together to implement a Nitrogen Deposition Reduction Plan to reduce nitrogen deposition to tolerable rates by 2032. Colorado crop and livestock producers are exploring ways to further reduce agriculture's contribution through nitrogen best management practices. To download a fact sheet, click here.