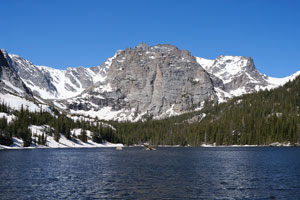 NPS
Nitrogen Deposition
Nitrogen is transported by wind combined with moisture in the air, and then deposited in the park by rain or snow. Pollutant concentrations may reach a tipping point where they begin causing unnatural ecosystem changes.
Although nitrogen is an important part of park ecosystems, excess deposition of atmospheric nitrogen at 15 times the natural rate is impacting natural resources. Excess nitrogen acts as a fertilizer which favors some types of plants and leaves others at a disadvantage. This element also uses up natural buffering agents in water and soil that leave ecosystems vulnerable to future acidification.
Three-quarters of the park is above 9,000 feet where high elevation ecosystems developed under low nutrient conditions. These areas are susceptible to excess nitrogen. Within these ecosystems, alpine tundra, aquatic plants, soils and water quality are most affected. Scientists are also concerned that excess nitrogen may promote non-native plants and reduce forest health.
Sources of human made or excess atmospheric nitrogen include power plants, vehicle exhaust, oil and gas production, wastewater treatment plants, landfills, fertilized crops, livestock production, and other municipal and residential activities.