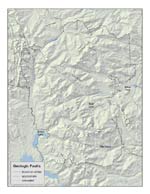 Courtesy of Ron Thomas and the ROMO GIS Program based on the 1990 USGS Geologic map by William Braddock and James Cole.
Earthquake faults are mapped lines of past movement and rupture. Locations of the park's known, approximate, and concealed faults are shown in Figure 2. Unlike heavily populated California, where faults have been mapped in great detail, the map of the park's faults is somewhat incomplete. Faults can be especially hard to discern in areas of homogenous-looking granite.
The U.S. Geological Survey's Central Region Geologic Hazards Team states that, based on current knowledge, the repeat interval along the Front Range for an earthquake as strong as that experienced in 1882 is on the order of every 1000 years. Smaller events, in the range of magnitude 5.0-5.5 occur more frequently, perhaps with a reoccurrence on the order of decades.