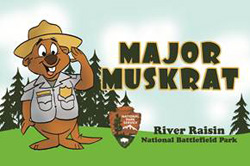 Explore the River Raisin area with the Major!
Look below for fun activities you can download and use at River Raisin National Battlefield Park and the surrounding area! Join Major Muskrat and explore and learn about the Heritage Trail -- and if you complete all 20 stops along the trail, you can earn a Heritage Trail VISA patch. Fun for all ages!
Booklets to download:
Our Junior Ranger booklet is in development and will be available soon. Until then, try out these fun activities!! (Files are PDFs, get a free PDF reader program here)
Blaze the River Raisin Heritage Trail
Plant identification

What is that strange plant growing over there?? Download the Major's fun-filled Plant Discovery document and find out about the plants growing around the River Raisin Battlefield area! The link is just to the left.