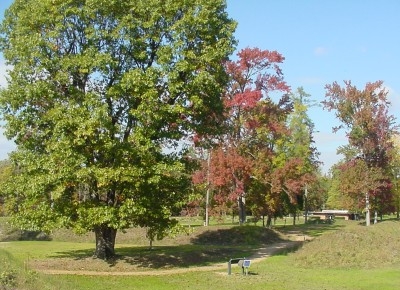 (NPS Photo)
Richmond National Battlefield Park consists of over 1,900 acres divided among thirteen separate park units within the City of Richmond, and three surrounding counties (Henrico, Hanover and Chesterfield). These units fall within the coastal plain of Virginia and are bounded by the James and Chickahominy River watersheds. Although the park is primarily known for its cultural resources, visitors are encouraged to recognize the importance of natural resources as well. The park strives to enhance the overall experience of the visitors, and protection of the flora and fauna is an integral part of this effort.

Much of the park's acreage was historically cleared for agriculture. In order to maintain portions of this cultural landscape, the park has endeavored to keep certain areas open and free of trees. This has created a variety of successional stages and community types throughout the park, ranging from field to old-growth forest. This, in turn, creates habitat for a wide variety of birds, mammals, reptiles, and amphibians.

The park has just over 100 acres of land leased for agriculture, and approximately 100 additional acres of managed fields. The remaining acreage of the park consists of forest habitat, transitioning from mixed hardwood to pine or mixed oak communities depending primarily on past land use and successional stage.

The park presently contains approximately 11 miles of rivers and streams and 430 acres of riparian wetland. Although the majority of the park's wetlands are forested, several areas (Malvern Hill, Gaines' Mill and Beaver Dam Creek) have opened up due most likely to beaver activity. This not only creates a beautiful visual scene but wonderful habitat for fish, turtles and water birds, such as herons and egrets.

The park contains approximately seven miles of maintained walking trails along which visitors can meander through this variety of natural community types and visual landscapes.