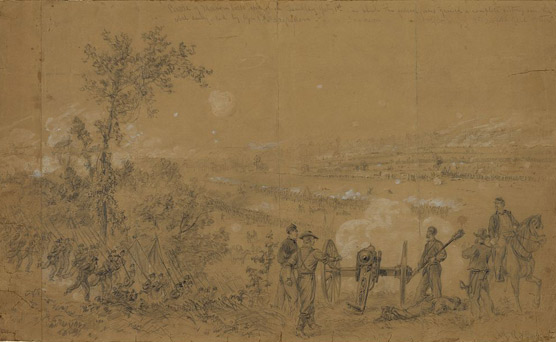 Library of Congress
The Confederate bombardment failed, but Lee's infantry attacked anyway, thrown into the charge after a series of misunderstandings and bungled orders. Lee himself was absent when the heaviest fighting erupted. He was away looking for any alternate route that would allow him to bypass Malvern Hill. But once the attack started, Lee threw his men into the fray. Some twenty separate brigades of Southern infantry advanced across the open ground at different times. As the Confederate leaders had feared, the Federal batteries proved dominant. Most attacks sputtered and stalled well short of the hill's crest. Occasionally McClellan's infantry, commanded by Fitz John Porter, George Morell, and Darius Couch, sallied forward to deliver a fatal volley or two. Pieces of Confederate divisions led by D. H. Hill, Benjamin Huger, D. R. Jones, Lafayette McLaws, Richard S. Ewell, and W. H. C. Whiting advanced at different times, always without success. General John B. Magruder organized most of the attacks.
Late in the day, a few Union brigades and some fresh artillery raced to the hilltop in support. But in fact only a small segment of the Army of the Potomac saw action at Malvern Hill. The dominance of the position enabled less than one-third of the Union army to defeat a larger chunk of the Confederate army at Malvern Hill.
As with each of the other battles during the dramatic week, darkness concluded the action. Malvern Hill had demonstrated the power and efficiency of the Union artillery in particular. Confederate leaders and soldiers alike could look back on poor command and control as the principal cause of their defeat. The casualty totals were more balanced than expected for a battle in which the outcome never was in doubt. Slightly more than 5000 Confederates fell killed and wounded, while roughly 3000 Union soldiers met a similar fate.
Today Malvern Hill is the best preserved Civil War battlefield in central or southern Virginia. Nearly unaltered in appearance since 1862, the battlefield's rural setting and extensive walking trails offer an ideal environment for visitors to study the climactic battle of the Seven Days Campaign.