Traffic & Travel Tips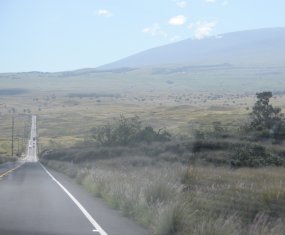 When visitors come to the Island from the U.S. Mainland or from other countries, many do not take into account the long driving distances involved in driving on the Island. The Island of Hawai'i is the largest island in the United States, it contains no interstate highways, speed limits are never over 55mph (usually only 35-45mph) and traffic can often be backed up during peak travel hours.

Planning for the Unexpected

Be aware that military convoys, triathlons, road construction and special community events (parades, festivals, etc) can often cause traffic to come to a standstill. It is also advisable to check public transportation schedules ahead of time and to book car/van rentals well in advance. Some visitors arrive on the Island only to find that all the Island's rental vehicles are already reserved.
Visitors will often notice that nothing happens fast on the Island...so slow down and adjust to "Island Time." Relax and enjoy the journey!
Did You Know?

Many of the stones on Pu'ukohola Heiau are believed to have come from Pololu Valley. It is believed that Kamehameha and his men formed a human chain approximately 25 miles long and passed the stones one person to another all the way to the temple site.