Ranger Activities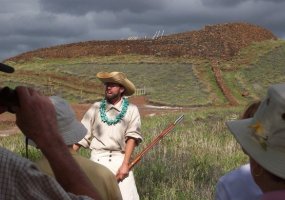 Join a Park Ranger at the Visitor Center for a guided tour of the primary historic sites of the Park (20-30 minutes) or special programs like shark watching.
Use your cell phone and call (808) 206-7056 for a complete tour of the Park (30 minutes).

You may also listen to the tour online or download the mp3 files HERE.
Step back in time with John Young, the trusted advisor of Kamehameha the Great, as you explore the Park through the eyes of one of the most influential men in the history of Hawai'i (30-45 minutes).
For educational groups (Elementary-College), please contact the Park to book a program.
Did You Know?

Of the many birds that you can find at Pu'ukohola Heiau National Historic Site, most are invasive species. The Black crowned night heron, however, has long been in Hawai'i. You will usually spot them along the shore and around the remains of the ancient fishpond.