Firewood

Outside firewood is prohibited in Prince William Forest Park, unless it is certified USDA 'bug free' firewood. Dead and downed wood may be collected from designated areas for use while in the park. Help us protect the forest from invasive species!
Warm Wet Spring = More Ticks

Please check yourself and your pets for ticks continually during and after your visit. Ticks are less prevelent if you stay on trail or in mowed areas. Wearing light colored clothing helps you spot them before the attach.
Temp. Closure C-Loop Bathroom

Due to sequestration cuts, the C-Loop bathroom at Oak Ridge Campground will remain closed. Please use the B-Loop restroom, a short walking distance away. We apologize for the inconvenience.
Farms to Forest Extension Trail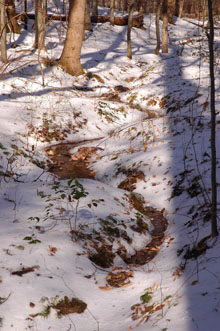 National Park Service
Farms to Forest Extension Trail (2.7 miles; 4.3 km)
The Farms to Forest Extension Trail is a moderate hike through a regenerated forest that was once mostly farm land. This trail takes you to Quantico Creek where you can see beaver habitat and possibly beavers. To access the trail, start at Oak Ridge Campground. From here follow signs for the Farms to Forest Trail, which is blazed with yellow and green. Take the right fork of this trail and walk for 15 minutes. You will then intersect the beginning of the extension trail, which is blazed with only yellow.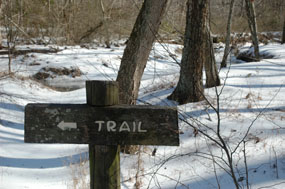 National Park Service
Follow along the extension trail for about 25 minutes until you reach Quantico Creek. As you follow the trail along the creek, you can see beaver activity.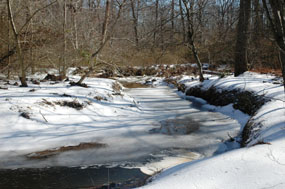 National Park Service
You will follow the creek for another 25 minutes before you ascend back towards the Farms to Forest Trail.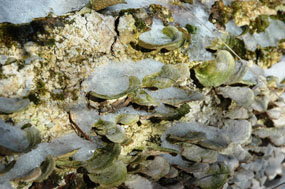 National Park Service
Downed logs due to beaver activity provide great habitat for other organisms. Here you can see bracket fungi growing on a downed log. Bracket fungi are found growing on trees or fallen logs in damp woodlands and are formed from basidiomycetes. Brackets of fungi can form only a single row of a few caps, up to dozens of rows of caps. The caps can weigh up to several hundred pounds.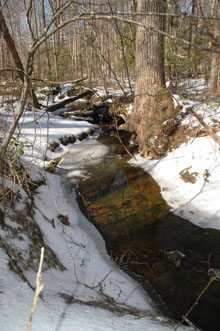 National Park Service
A small tributary of Quantico Creek can be found along the trail. Notice the exposed tree roots of trees that line the water's edge, which create even more habitat for different organisms.
After leaving the creek's edge it is only a short five minute walk back to the Farms to Forest Trail and another ten minutes back to Oak Ridge Campground.
Did You Know?
Prior to 1948, Prince William Forest Park was named Chopawamsic Recreation Demonstration Area.  The name hinted at one of the park's intended uses as a source of recreational opportunities for the inner-city youth of Washington, D.C.