Letterman Complex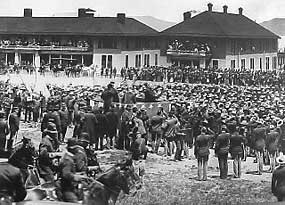 Letterman General Hospital, the U.S. Army's oldest named general hospital, was established in 1898 to care for sick and wounded soldiers returning from the Philippine Islands during the Spanish American War. During World War II, Letterman became the largest Army hospital in the country, treating over 76,000 patients in 1945 alone. Until its closure in 1992, Letterman Hospital provided medical care for soldiers in every major U.S. conflict of the 20th Century. Today, the new Letterman Digital Arts Center has replaced the high-rise part of Letterman Hospital built in 1969.
Click here for more on the history of the Letterman Complex.
Did You Know?

The Presidio occupies 1,491 acres in northern San Francisco and welcomes over five million visitors annually.