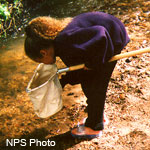 Using Park Resources
to Teach, Inspire
and Motivate Students
Education program reservations are full for school year 2014-2015.
Please do not submit any email requests for programs.
Each year, reservations are taken beginning at 8 am on the first Monday in August and fill quickly.
If you want to bring a group out for a self-guided experience at Kule Loklo, please plan for a Monday or Friday. These are the days when ranger-led programs are not scheduled. You don't need to make a reservation for this self-guided experience.
Plan A Field Trip
Curriculum Materials
Other Resources