Bear Valley Visitor Center Lighting Retrofit:

Due to safety concerns during the installation of new LED lights, sections of the Bear Valley Visitor Center's exhibit area may be closed through the end of July. More »
The Kenneth C. Patrick Visitor Center will be closed on Saturday, July 16.

We are sorry for any inconvenience, but the Kenneth C. Patrick Visitor Center at Drakes Beach will be closed on Saturday, July 16. It will open at 10 am on Sunday, July 17.
History & Culture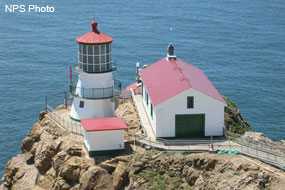 The cultural history of Point Reyes reaches back some 5,000 years to the Coast Miwok Indians who were the first human inhabitants of the Peninsula. Over 120 known village sites exist within the park. According to many experts, Sir Francis Drake landed here in 1579, the first European explorer to do so. In response to the many shipwrecks in the treacherous coastal waters, key lighthouse and lifesaving stations were established by the United States Government in the late 1800s and early 1900s. In the early 1800s, Mexican land grantees established ranchos. They were followed by a wave of American agricultural operations, which continue to this day in the Seashore's pastoral zone.


Did You Know?

40 percent of all debris items picked up during California Coastal Cleanup Days are cigarette butts. In 2008, volunteers picked up over 340,000 of them in only three hours. 2008 was the 24th straight year in which cigarette butts were the most numerous debris item picked up. More...