Plan Your Visit
National Historic Trails recognize diverse facets of history such as prominent past routes of exploration, migration, trade, communication and military action. The historic trails generally consist of remnant sites and trail segments, and thus are not necessarily contiguous.
Although many of these trails are administered by federal agencies, land ownership may be in public or private hands. The Links & Resources page has a partial listing of these partner agencies and private land owners as well as contact information for visiting trail resources on these lands. Of the 19 National Historic Trails, 17 are administered (or co-administered) by the National Park Service. The suggested sites to visit page will provide information for enjoying these trails and suggest opportunities to learn about Pony Express stories and experiences.
The overall map of the entire trail can be downloaded from the "Maps" link found under trail
Directions
. Auto Tour Route highway
driving directions and maps
approximate the historic route of the Pony Express.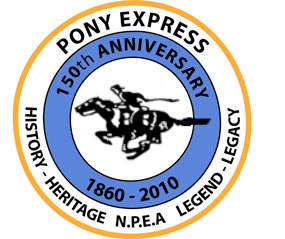 NPEA
Annual Pony Express Ride
Between April of 1860 and November of 1861, the Central Overland California & Pike's Peak Express Company, otherwise known as the Pony Express, maintained communications between the east coast and the west coast of America by carrying official mail between St. Joseph, Missouri and Sacramento, California.
Today, the The National Pony Express (NPEA) keeps the legends of the pony alive by riding the original trail route each year. The riders turn their ponies east one year and west the next year.
More infromation about the National Pony Express Association is available on the
Partners
web page.