Chapel Road

Chapel Road is flooding in a few places. For the 3.5 miles northwest of H58 the road is only passable with a four-wheel drive, high clearance vehicle. All other vehicles are sure to be stuck. With the wintery forecast, conditions will deteriorate.
Interagency Visitor Center schedule

The interagency visitor center in Munising will close at 1:30 p.m. on December 23 and 24. The visitor center will be closed on December 25 and January 1.
Nature & Science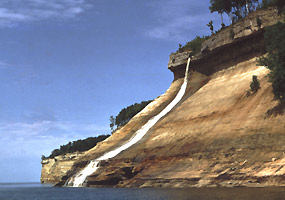 NPS photo
Towering above Lake Superior are the most prominent of Pictured Rocks National Lakeshore's geographic and scientific features, the multicolored sandstone cliffs for which the lakeshore is named. These cliffs reach to a height of 200 feet above the lake and extend 15 of the 42 miles of shoreline within park boundaries.

Equally important as these cliffs in geographic and scientific significance are the Grand Sable Dunes, sand dunes perched atop five square miles of high sand bluffs at the eastern portion of the lakeshore. Miles of unspoiled beaches are a third prominent feature of the lakeshore.

The scientific features of the park reach far beyond the visually spectacular. Because of its location within the transition zone between the boreal and eastern deciduous forest biomes, Pictured Rocks has elements of both forest types. Hardwood forests of maple and beech are prevalent, but conifers dominate some sites. Soils range from well-drained sandy soils to hydric soils. Aquatic habitats, including streams, ponds, marshes and bogs are abundant. Lake Superior wields a powerful climatic force over the region; by keeping adjacent lands warmer in winter and cooler in summer, it greatly influences physical conditions and hence biotic communities.

Along with university researchers and other partners, the national lakeshore's Science and Natural Resources Division conducts studies on resource management issues involving wildlife, water quality, invasive species, and forest health. For more information on the park's science mission and activities, go to:

Pictured Rocks NL Science Strategy Plan (pdf)
Pictured Rocks NL Forest Vegetation Monitoring (pdf)
Pictured Rocks NL Water Quality Monitoring (pdf)

Inventory and Monitoring at Pictured Rocks National Lakeshore - NPS website



Did You Know?

Pictured Rocks National Lakeshore is America's first National Lakeshore, authorized on October 15, 1966. On the same day, President Lyndon B. Johnson also signed into law another piece of landmark legislation -- the National Historic Preservation Act. More...