Cultural Demonstrations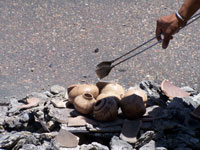 NPS
The Cultural Demonstrator Program at Petrified Forest National Park provides the opportunity for regional people to share their history and traditional crafts in the dynamic setting of Petrified Forest National Park.
The park is pleased to promote awareness and appreciation for the diverse history and cultures of the region in March and during the summer. Through cultural demonstrators, we can recognize the ancient peoples, intertribal relationships, European-descent cultures and even Route 66 history.

March 1 and 23: Alice Hawthorne and Angeline Murphy Navajo—Weavers, jewelry makers
March 8, 21, and 29: Teddy and Rebecca Goodluck—Navajo Silversmiths
March 7 and 14: Lincoln and Bessie Shepherd—Navajo Silversmiths
March 9: Otto Lucio—Zuni Silversmith
March 12 and 26: The Winslow Harvey Girls—Living History
March 15: JImmy Yawakia—Zuni Fetish Carver
March 16 Ena Middleton—Potter
March 22 and 30: Justin Morris—Navajo Silversmith
March 28: Alberta and Weaver Selina - Basketry and Beading



Did You Know?

The ecosystem at Petrified Forest National Park is not desert. It's one of the largest areas of intact grassland in the Southwest. More...