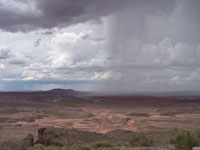 Photo by Marge Post/NPS
The monsoon season occurs in July and August, providing the majority of annual rainfall. Mornings often dawn clear, but thunderheads begin to form by late morning. Almost every afternoon short outbursts of rain with spectacular lightning, roaring thunder, and sometimes hail cool the air and are a welcome relief from the summer heat. Summertime visitors should be aware of lightning danger and avoid hilltops at these times. Inside a vehicle or building is the safest place from which to observe a sudden storm and its associated light show.
The average relative humidity of the area is well below 50%, at times less than 15%, making even the hot summer days quite tolerable. Weather records show that the average June relative humidity is 26%, while the average August humidity is 47%.
Because clear nights allow for rapid cooling, temperatures in Petrified Forest National Park can vary as much as 40 F between the highs of daytime and the lows of night. Summertime temperatures, from late May to early September, are in the mid to high 90s F, yet go down to the mid 60s F overnight. Winter temperatures, November to March, often average in the teens and 20s F at night with daytime sunshine warming the area up to the 40s or 50s F.