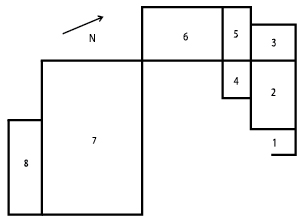 The excavation began with the removal of all loose surface petrified wood, which they set aside to be later used in reconstructing the walls. Under the surface materials, they discovered most of the foundations "were fairly good and easy to follow." He reported the walls to be one foot thick and the floors of the pueblo averaged 8-18 inches (20-45 cm) below the existing grade. Firepits were discovered in two rooms. Excavation began in rooms 2 and 3, continuing with 4, 5, 6, and 1. Rooms 7 and 8 were the last to be excavated.
Agate House was originally constructed using medium to large pieces of petrified wood, which were presumably carried to the top of the knoll. The petrified wood was held in place by mud mortar and chinked with smaller pieces of petrified wood.
Agate House was listed on the National Register of Historic Places in 1975.