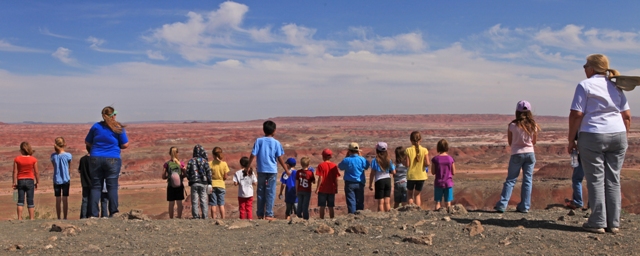 NPS Photo
Educators and youth leaders, make an adventure out of learning! Petrified Forest National Park strives to provide high quality curriculum-based educational material for teachers, parents, and students of all grade levels. The resources of Petrified Forest are ideal for exploring topics in many content areas such as earth science, life science, and social studies.

Petrified Forest National Park contains one of the best Late Triassic fossil assemblages in the world. The forces of deposition and erosion have shaped this strangely beautiful landscape. The park also contains one of the best native grassland ecosystems in Arizona. The human story at Petrified Forest goes back over 13,000 years. There is much to discover at Petrified Forest!

Whether you're planning a park visit for your students, looking for lesson plans or other resources to use in your classroom or home, or hoping to arrange for a ranger to visit you, you will find it here. Education is a primary mission of the national parks and Petrified Forest is an amazing classroom. Park rangers, teachers and educators all share the effort to connect students to the park.

Educational Fee Waivers
School groups, including home schoolers, may apply for an Educational Fee Waiver several weeks before a visit. Without this application, school groups will be considered a noncommercial group and charged fees accordingly.
Educational Fee Waiver: (Please note this is new application form, updated in 2014. If you have a version from previous years please use this updated version instead.)
Travel Grants 2015
There is a limited amount of money available for FY2015 (until October) on a first come first served basis. School groups who would not be able to visit the park without financial assistance are encouraged to apply but any school group is eligible to apply. Download the application form here.
Contact Information
Phone: (928) 524-6228 ext.238
Email: email us
Mail:
Education Program
Petrified Forest National Park
PO Box 2217
Petrified Forest, AZ 86028

Plan a Field Trip
There are multiple curriculum-based Education Programs at Petrified Forest National Park.

Curriculum Materials
Focusing on science and mathematical concepts with applications to language arts and social studies, Petrified Forest National Park's curriculum materials include downloadable modules and lesson plans.

Professional Development
The Teacher-Ranger-Teacher program links national park units with teachers from under-served urban and rural school districts.

Materials for Loan
Borrow something from our digital lending library of educational DVDs and CDs or reserve one of our Traveling Trunks which include books, materials, and lesson plans to help bring parts of the Petrified Forest to your classroom.

Distance Learning Opportunities
Can't bring your class to the park for a visit? Explore Petrified Forest and other national parks through online activities.

Online Galleries
Check out some of the past educational activities experienced through Petrified Forest National Park's Education Program.

Other Resources
Miscellaneous things of interest