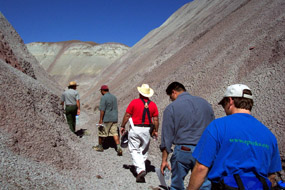 NPS
Park planning is a decision-making process that involves an understanding of the purpose and significance of the park along with public input.
Ongoing planning projects can be found on the NPS Planning, Environment & Public Comment (PEPC) web page: Petrified Forest Public Planning Website.
---
Glossary of Planning Terms
Environmental Impact Statement (EIS): prepared when a proposed action or alternatives have the potential for significant effect on the human environment.
Environmental Assessment (EA): determines whether the impact of a proposed action or alternatives could be significant.
Record of Decision (ROD): substantiates a decision based on an EIS. It includes a statement of the decision made, a detailed discussion of decision rationale, and the reasons for not adopting all mitigation measures analyzed, if applicable.
Finding of No Significant Impact (FONSI): A determination based on an EA and other factors in the public planning record for a proposal that, if implemented, would have no significant impact on the human environment.
Scoping: The procedure by which an agency identifies important issues and determines the extent of analysis necessary for an informed decision on a proposed action. Scoping, an integral part of environmental analysis, includes early involvement of interested and affected public, as well as internal and external agency contacts. Although formal scoping occurs for a specific time period, we welcome your comments on projects while we are in the process of preparing plans.