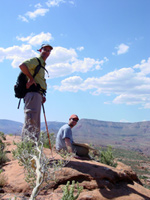 PARA photo
Hiking/Backpacking
There are only two semi-maintained trails in the Monument - Mt. Trumbull and Mt. Dellenbaugh. All other hiking is on unmarked routes or requires bushwacking through dense brush or rugged terrain.
Exploring a remote area requires planning:
Take a map, compass, and/or GPS.
Water is not available so take a supplemental supply.
Always carry extra food, matches or a lighter, a signal mirror, whistle, and foul weather gear.
Be aware that cell phones do not work in most areas.
Leave a detailed itinerary and a return date with family or friends.
Never climb up or down into areas that you are not certain that you can exit. Never assume that you can continue forward, and be aware that descents from the steep areas you climb to, can be difficult and dangerous.
Permits are required for hiking below the Grand Canyon rim. You can obtain a permit from the Grand Canyon National Park Backcountry Office.