Things To Do
Camping
Public lands throughout the Monument are open for camping
No fees or permits are required for backcountry camping

There are no developed campgrounds within the Monument; camp in previously used sites along primary roads

Maximum stay - 14-days

Do not camp within 1/4 mile of any water source including seeps, springs, earthen tanks, and wildlife catchments

No toilets are available. Walk away from camp and dig a hole about six to eight inches deep - spread out toilet sites. Cover the hole with dirt when finished. Take toilet paper back to camp and deposit in camp garbage

Practice Leave No Trace techniques at all times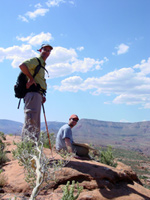 PARA photo
Hiking/Backpacking
There are only two semi-maintained trails in the Monument – Mt. Trumbull and Mt. Dellenbaugh. All other hiking is on unmarked routes or requires bushwacking through dense brush or rugged terrain.
Exploring a remote area requires planning:
Take maps, compass, and/or GPS.
Water is not available so take a supplemental supply
Always carry extra food, matches or a lighter, a signal mirror, whistle, and foul weather gear.
Be aware that cell phones do not work in most areas.
Leave a detailed itinerary and a return date with family or friends
Never climb up or down into areas that you are not certain that you can exit. Never assume that you can continue forward, and be aware that descents from the steep areas you climb to, can be difficult and dangerous.


Did You Know?

Desert tortoises' sharp claws and strong legs can dig burrows up to 30 feet long to protect themselves from the blistering summer heat and cold winter temperatures.