Plan Your Visit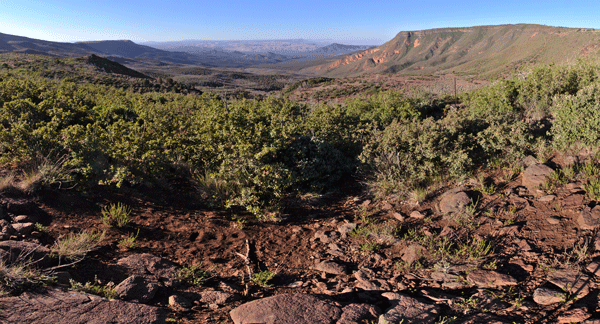 Photo by Kenneth Ingham
Parashant National Monument is a rugged and wild land larger than the state of Rhode Island. It epitomizes much of the "Wild West" including a vast, wild landscape of desert cactus and sheer canyon walls, soaring raptors and tall ponderosa pines, isolated cattle corrals and line shacks, lone cowboys, and rugged rock formations set against endless blue skies. Few signs of civilization mar the splendid isolation of this vast landscape making it one of the best places in the world to view dark night skies.
With the Grand Canyon plunging thousands of feet deep along the south perimeter and only rough, unpaved roads providing entry from the north, west and northeast, the monument is one of the most remote areas within the 48 contiguous states. No towns or communities lie within its boundaries. To travel anywhere in the monument except its outermost edges requires slowdriving over rough terrain, often in a high-clearance, four-wheel drive or off-highway vehicle.
There are no established services within the monument boundaries and only limited means of communication work effectively to contact anyone for assistance. Cell phones don't work here.
Surviving the Parashant
Before venturing into the Monument, be sure you are well prepared to deal with the rough roads and isolated conditions.

Do not

enter the Monument without purchasing the Arizona Strip Visitor Map. The map, road and safety information, and resource materials are available at the Interagency Information Center located at 345 East Riverside Drive in St. George, UT; (435) 688-3200 and at Pipe Springs National Monument on Arizona State Highway 389; (928) 643-7105.
There is no paved road access to or within the Monument. During dry periods graded dirt roads are passable by 2-wheel drive vehicles, but roads may become impassable when wet. We recommend that only well equipped four-wheel drive vehicles with two full-sized spare tires travel Monument routes.
Cell phones do not work in most areas of the Monument so leave a detailed itinerary and an estimated time of arrival with a friend or family member.
There are no services within the Monument. Take extra food, water and clothing, to allow for weather changes or vehicle breakdowns. If you are staying more than one day, take additional gas.
Note: It is illegal to drive any vehicle (including ATVs and bicycles) off designated roads.
Emergency phone number
1-800-680-5851 – 24 hours a day