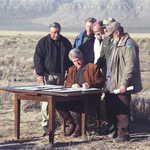 (William Jefferson Clinton Presidential Library)
President William Jefferson Clinton signed Presidential Proclamation 7265 to Parashant National Monument on January 11, 2000. The proclamation was issued under the Antiquities Act of 1906 (34 Stat. 225, 16 U.S. Code 431) and governs the joint BLM and NPS management of how the provisions of the Federal Land Policy and Management Act of 1976 and the Organic Act of 1916 are to be applied within the monument.
The Superintendent's Compendium is a compilation of designations, closures, permit requirements, and other restrictions made by the superintendent, in addition to what is contained in Title 36 of the Code of Federal regulations (Parks, Forest, and Public Property, Chapter 1, National Park Service, Department of the Interior), and other applicable federal statutes and regulations.
The Superintendent's Compendium (including Kelly Point Road, Seasonal Road Closure)
Title 36 of the Code of Federal Regulations
Press Release, June 20, 2014: Unmanned Aircraft to be Prohibited in America's National Parks