Park Phone issues

The visitor center main phone line and fax line are not working. To reach the park visitor center, call (361) 949-8069. Fax to (361) 949-7091, Attention: Visitor Center. We apologize for the inconvenience.
Bird Island Basin Campground rehabilitation starts August 18, 2014

The second part of a project to repair facilities and rebuild eroded shoreline at Bird Island Basin Campground begins August 18. Minor disruptions of activities in the immediate area may occur. None of the work should affect use of the boat ramp.
Coastal Flood Advisory until 10:00 pm CDT 9-26-14

The National Weather Service issued a Coastal Flood Advisory due to strong offshore winds pushing the tides above normal levels. Beach driving is highly discouraged. Flooding up to the dunes is likely. Additional updates will be posted if necessary.
On the Laguna Madre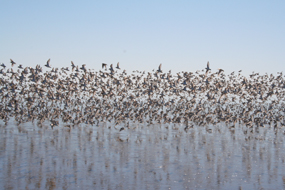 NPS Photo
The Laguna Madre, which is Spanish for "Mother Lagoon," is home to a beautiful diversity in wildlife, vegetation, and unique habitats. Select one of the following topics to learn more about how you can enjoy and explore this rare and beautiful hypersaline lagoon.
Click here to listen to a podcast on the Laguna Madre.
Did You Know?

Padre Island National Seashore has a wheelchair designed for use on loose sand available for loan at no charge. Users must leave a driver's license or their personal wheelchair at the information desk while the beach wheelchair is on loan. More...