BIB Campground Rehabilitation begins March 17, 2014

A project to repair the facilities and rebuild the eroded shoreline in the Bird Island Basin Campground will begin March 17, 2014. Minor disruptions in the immediate area may occur. Please note that none of the work should affect the use of the boat ramp.
North Beach is open, South Beach will open at 8 am 4/5/2014

The oil-covered materials on the beach have been removed, and clean-up is nearly complete. The North Beach portion of the park is open to driving as of 11:50 am on 4/4/2014. The South Beach portion will open to driving at 8 am on 4/5/2014.
On the Laguna Madre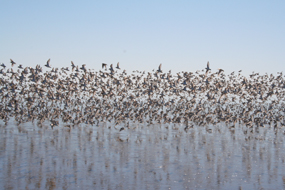 NPS Photo
The Laguna Madre, which is Spanish for "Mother Lagoon," is home to a beautiful diversity in wildlife, vegetation, and unique habitats. Select one of the following topics to learn more about how you can enjoy and explore this rare and beautiful hypersaline lagoon.
Click here to listen to a podcast on the Laguna Madre.
Did You Know?

The Laguna Madre is one of only six lagoons in the world that is hypersaline (saltier than the ocean). More...