Park Phone issues

The visitor center main phone line and fax line are not working. To reach the park visitor center, call (361) 949-8069. Fax to (361) 949-7091, Attention: Visitor Center. We apologize for the inconvenience.
Bird Island Basin Campground rehabilitation starts August 18, 2014

The second part of a project to repair facilities and rebuild eroded shoreline at Bird Island Basin Campground begins August 18. Minor disruptions of activities in the immediate area may occur. None of the work should affect use of the boat ramp.
On the Laguna Madre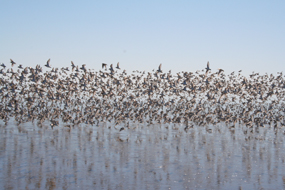 NPS Photo
The Laguna Madre, which is Spanish for "Mother Lagoon," is home to a beautiful diversity in wildlife, vegetation, and unique habitats. Select one of the following topics to learn more about how you can enjoy and explore this rare and beautiful hypersaline lagoon.
Click here to listen to a podcast on the Laguna Madre.
Did You Know?

The wreck of three Spanish ships near the southern end of Padre Island in 1554 was the greatest disaster to hit the Spanish fleet in the New World up to that time. More...