Park Phone issues

The visitor center main phone line is out. To reach the park call (361) 949-8069 or (361) 949-4793. The issue has been reported, however the phone company is having difficulty locating the problem. We apologize for the inconvenience.
Padre Island National Seashore will Conduct a Sobriety Checkpoint on Saturday, July 19, 2014.

To protect the public from impaired drivers and help ensure a safe park experience for all visitors, Padre Island National Seashore law enforcement will conduct a Sobriety Checkpoint on Saturday, July 19, 2014 on Park Road 22 near the park's entrance.
On the Laguna Madre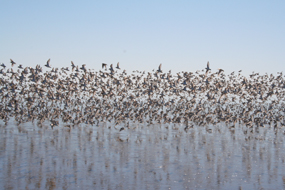 NPS Photo
The Laguna Madre, which is Spanish for "Mother Lagoon," is home to a beautiful diversity in wildlife, vegetation, and unique habitats. Select one of the following topics to learn more about how you can enjoy and explore this rare and beautiful hypersaline lagoon.
Click here to listen to a podcast on the Laguna Madre.
Did You Know?

Although Padre Nicolas Balli established the first permanent settlement on the island, the island was previously owned by his father and his grandfather, who obtained the original grant from the Spanish crown. More...