Overview
Paterson enjoys a distinguished history as one of this nation's earliest industrial centers. It owes its existence to the far reaching vision of one of America's most important founders, and a shaper of our modern governmental and financial institutions, Alexander Hamilton. Hamilton envisioned Paterson, with its water power provided by the Great Falls of the Passaic River, as America's counterpart and response to the industrial revolution occurring in England during the same period.
Learn more about Paterson's history, watch "Smokestacks and Steeples - A Portrait of Paterson"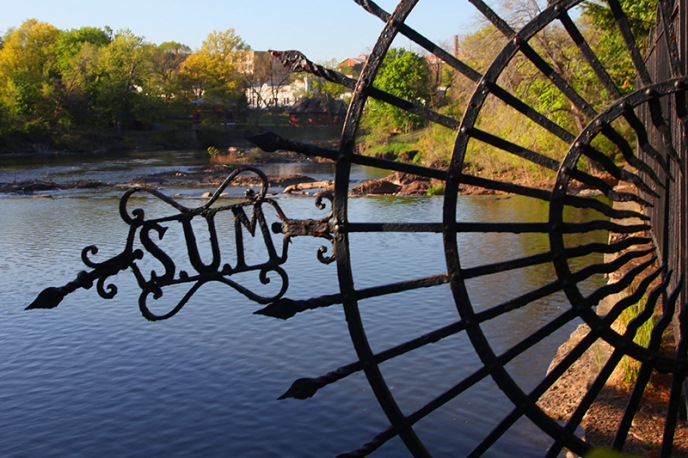 Copyright Daniel C. Krebs
The history of the City of Paterson includes its beginnings as the ambitious project of Hamilton and the Society for Establishing Useful Manufacturers (S.U.M.) in 1792 at the Great Falls, the early development of water power systems for industrial use, and the various types of manufacturing that occurred in the District's mills into the 20th Century. These included cotton fabrics, railroad locomotives, textile machinery, jute, and silk spinning, weaving, and dyeing, among many others.
The Great Falls also represents compelling stories of the lives of immigrants who labored in the mills, those who owned and operated manufacturing concerns and became wealthy, and the quest of laborers and the labor movement for better working conditions and pay. Immigrants still settle today in Paterson to pursue their versions of Hamilton's vision, creating a diverse and vibrant culture.
Because of this rich legacy, the Great Falls has received a number of distinctions:
National Natural Landmark
The Great Falls of Paterson became a National Natural Landmark in 1967.
The National Natural Landmarks Program encourages and supports the conservation of sites that illustrate the nation's geological and biological history, and to strengthen the public's appreciation of America's natural heritage.
Learn more about the National Natural Landmarks Program
National Historic Landmark
A part of Paterson was designated as a National Historic Landmark District in 1976.
National Historic Landmarks are nationally significant places designated by the Secretary of the Interior because they possess exceptional value or quality in illustrating or interpreting the heritage of the United States.
Learn more about National Historic Landmarks
Historic Civil Engineering Landmark
The Great Falls raceway and power systems became a Historic Civil Engineering Landmark in 1977.
The Historic Civil Engineering Landmark Program recognizes historically significant local, national, and international civil engineering projects, structures and sites.
Learn more about Historic Civil Engineering Landmarks
Paterson Great Falls National Historical Park
We are one of the newest units within the National Park Service.
On March 30, 2009, President Barack Obama signed the Paterson Great Falls National Historical Park Act as part of the Omnibus Public Lands Management Act.
Read H.R. 146, the "Omnibus Public Land Management Act of 2009"
You can learn more about all the sites cared for by the National Park Service.