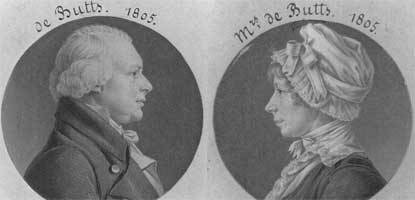 Artist: St. Memin. Courtesy of the National Portrait Gallery.
Samuel DeButts was born in Ireland in 1756. He began his career as a doctor in England and there he met and married his wife, Mary Welby, in 1785. Samuel's practice was difficult, unprofitable, and kept the couple apart for weeks. Like hundreds of thousands of other European families, Samuel and Mary decided to immigrate to the United States to make a better life for their family.
Twenty years after the DeButts family arrived in America, Samuel signed a deed for a 206 acre land that is known today as Oxon Hill Farm. Samuel, however, named the new family home Mount Welby, in honor of his wife's family, and spent the rest of his days there. Samuel's grandchildren sold the property in 1843.