Wagon ride temporarily canceled.

Our wagon is in the shop for a much needed "face-life." Call 301.839.0503 for more information.
Contact Us
Our street address is:
Oxon Cove Park
6411 Oxon Hill Road
Oxon Hill, Maryland 20745
Our mailing address is:
National Capital Parks - East /Oxon Cove Park
1900 Anacostia Drive, SE
Washington, D.C. 20020

Our telephone number is:
301-839-1176

Our fax number is:
301-567-8050

Email us!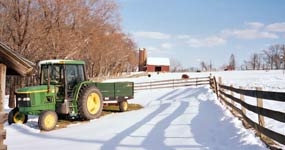 NPS PHOTO.


Did You Know?
The largest horse ever recorded was a Belgian stallion named Brooklyn Supreme. He died in 1948. The two Belgian draft horses that live at Oxon Hill Farm are named Becky and Dixie.