Changes to Visitor Service due to Sequestration

Due to mandatory, across-the-board budget cuts, some visitor services in this park have changed. Please check the Plan Your Visit section for more information.
Chicken Program canceled until further notice.

Our 11 a.m. chicken program is canceled temporarily. Please call ahead for information on 301.839.0503.
10/27/2013, Pumpkins, The Special Squash program canceled.

This program is canceled. Please call the park on 301.839.0503 for further information.
Contact Us
Our street address is:
Oxon Cove Park
6411 Oxon Hill Road
Oxon Hill, Maryland 20745
Our mailing address is:
National Capital Parks - East /Oxon Cove Park
1900 Anacostia Drive, SE
Washington, D.C. 20020

Our telephone number is:
301-839-1176

Our fax number is:
301-567-8050

Email us!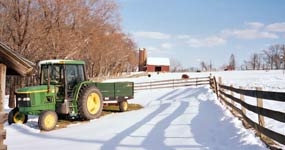 NPS PHOTO.


Did You Know?
In the early 1800's at least half of the population of Prince George's County, Maryland, was enslaved African Americans. Oxon Hill Farm is located in Prince George's County and seventeen enslaved people lived on the property in the 1800s.