Meet the Cow Program - canceled July 29 and 30, 2014

Our Wagon Ride and Meet the Chicken Program will be offered on July 29 and 30, 2014. However, due to work on the Dairy Barn, the Meet the Cow Program will not take place. Please call the park on 301.839.1176, if you have any questions.
Contact Us
Our street address is:
Oxon Cove Park
6411 Oxon Hill Road
Oxon Hill, Maryland 20745
Our mailing address is:
National Capital Parks - East /Oxon Cove Park
1900 Anacostia Drive, SE
Washington, D.C. 20020

Our telephone number is:
301-839-1176

Our fax number is:
301-567-8050

Email us!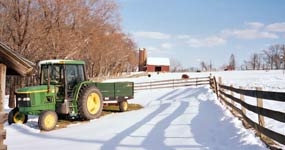 NPS PHOTO.


Did You Know?
The white farm house at Oxon Hill Farm was known as Mount Welby in the early 1800s. In 1891, Saint Elizabeths Hospital acquired Mount Welby and renamed it Godding Croft. The white farm house is the oldest structure in the park.