Saturday October 4, 2014 Program Change

Our Meet the Dairy Cow, Chicken Program, and Park's Past tour of the historic house will be offered on October 4, 2014. However, the Wagon Ride will not take place. Please call the park at 301.839.1176, if you have any questions.
Welcome Teachers,
Oxon Cove Park is an outdoor classroom where your students can learn about history, science, nature, and public lands conservation.
We offer field trips, on-line lesson plans, and virtual park visits. So, whether your class visits in person, or from the classroom we hope your students become park stewards as they learn something new!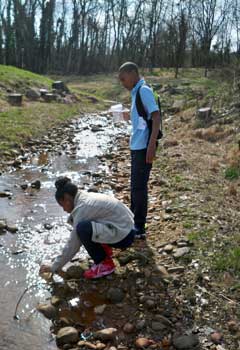 Features
Field Trips

Consider a field trip to Oxon Cove Park for Fall 2013.

Read More

Lesson Plans

Teaching about immigration, slavery, War of 1812? Want to learn more about the park? Use our lesson plans with your students in the classroom.

Read More

Opportunities for High School Students

Bridging the Watershed provides students with meaningful watershed educational experiences through hands-on a curriculum-based outdoor studies.

Read More