Changes to Visitor Service due to Sequestration

Due to mandatory, across-the-board budget cuts, some visitor services in this park have changed. Please check the Plan Your Visit section for more information.
Chicken Program canceled until further notice.

Our 11 a.m. chicken program is canceled temporarily. Please call ahead for information on 301.839.0503.
10/27/2013, Pumpkins, The Special Squash program canceled.

This program is canceled. Please call the park on 301.839.0503 for further information.
Welcome Teachers,
Oxon Cove Park is an outdoor classroom where your students can learn about history, science, nature, and public lands conservation.
We offer field trips, on-line lesson plans, and virtual park visits. So, whether your class visits in person, or from the classroom we hope your students become park stewards as they learn something new!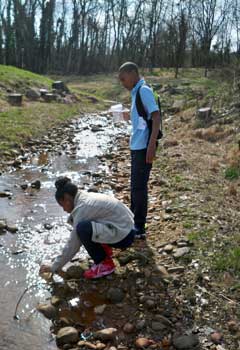 Features
Field Trips

Consider a field trip to Oxon Cove Park for Fall 2013.

Read More

Lesson Plans

Teaching about immigration, slavery, War of 1812? Want to learn more about the park? Use our lesson plans with your students in the classroom.

Read More

Opportunities for High School Students

Bridging the Watershed provides students with meaningful watershed educational experiences through hands-on a curriculum-based outdoor studies.

Read More