Operating Hours & Seasons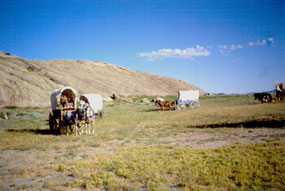 Kay Threlkeld
Local brochures and guides are generally available at each trail site. An Auto Tour Route Interpretive Guide, in Acrobat Reader PDF format, can be downloaded for each of the eight states that the trail passes through. These interpretive guides are currently in development, but the Western Missouri and Northeastern Kansas and the Nebraska and Northeastern Colorado regions are available now in travel and tourism, museum and interpretive centers through these states. The "Auto Tour Route" link will provide state by state driving directions that approximate the historic route of the "Road to Oregon."
Please respect private property by staying in public areas, and help protect our national heritage by leaving trail resources undisturbed.
---
Trail Partners & Tourism Information Resources:
Did You Know?

Many emigrants chose to take the Barlow Road around Mt. Hood as an alternative to dissembling their wagons and running the cold rapids of the Columbia River to reach their destination in the Oregon Territory in the 1840s-1860s. More...