Cave Creek Campground Closed

Cave Creek campground located at Mile Marker 16 is currently closed due to hazard trees.
Where To Eat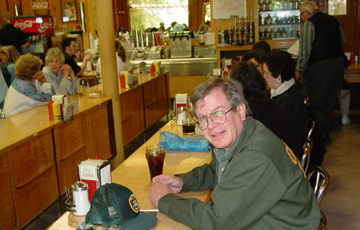 Oregon Caves Outfitters
The National Historic landmark, the Oregon Caves Chateau, is located on the monument. It offers a fine dining restaurant, a 1930's era coffee shop, and fresh deli items to go. The Chateau is open May 6 - late October 2010. For more information about dining at the Chateau, visit their website.
We also have several picnic tables available on the monument. You can purchase food items in Cave Junction (20 miles away) or at the Chateau.
In addition, there are several fine restaurants in Cave Junction where you can eat after (or before) you visit us. You can find out more information at cavejunction.com.


Did You Know?

The Pileated Woodpecker is the largest North American woodpecker. Funny, mischief making cartoon character Woody Woodpecker, was inspired by this bird. Other birds need this species for survival. They will use the holes or cavities the Pileated drills as nests, winter shelter, and a way to get at food inside trees that is otherwise hidden.