Road Work, Expect Delays

ODOT will be preparing highway 46 for asphalt patching. Please use caution when traveling between the monument and Grayback Campground. Various work will be from continue until July 31, 2014.
Watch for Wildlife

Please be on the lookout for fawns on the section of Caves Highway around Caves Campground! There is at least one very young one that is using the pavement as his transportation corridor.
Where To Eat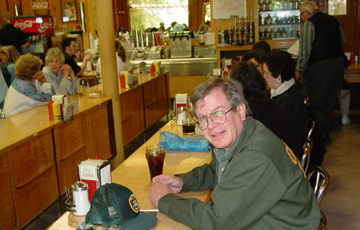 Oregon Caves Outfitters
The National Historic landmark, the Oregon Caves Chateau, is located on the monument. It offers a fine dining restaurant, a 1930's era coffee shop, and fresh deli items to go. The Chateau is open May 6 - late October 2010. For more information about dining at the Chateau, visit their website.
We also have several picnic tables available on the monument. You can purchase food items in Cave Junction (20 miles away) or at the Chateau.
In addition, there are several fine restaurants in Cave Junction where you can eat after (or before) you visit us. You can find out more information at cavejunction.com.


Did You Know?

The marble rocks of Oregon Caves were once a tropical reef that was pushed under the continental edge to a depth of 12 miles and then uplifted to 4,000 feet above sea level.