Cave Tours Closed for Season

Cave Tours are closed for the winter. Tours will resume April 26, 2014. All trails on the monument remain open.
Road Work

Crews are removing brush along highway 46 beginning in the lower parking lot and moving down the highway. Work is scheduled to last until April 20, 2014; expect delays.
Where To Eat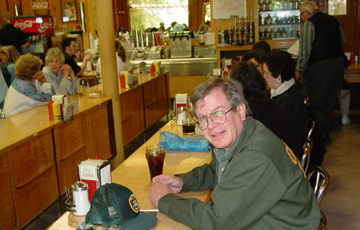 Oregon Caves Outfitters
The National Historic landmark, the Oregon Caves Chateau, is located on the monument. It offers a fine dining restaurant, a 1930's era coffee shop, and fresh deli items to go. The Chateau is open May 6 - late October 2010. For more information about dining at the Chateau, visit their website.
We also have several picnic tables available on the monument. You can purchase food items in Cave Junction (20 miles away) or at the Chateau.
In addition, there are several fine restaurants in Cave Junction where you can eat after (or before) you visit us. You can find out more information at cavejunction.com.


Did You Know?

The most complete jaguar fossil in the United States was discovered inside Oregon Caves in 1995 by crews who were working on a map of the cave.