Cave Creek Campground Closed

Cave Creek campground located at Mile Marker 16 is currently closed due to hazard trees.
Old Growth Trail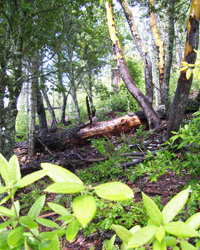 Old Growth Trail Map, 292 KB pdf file
Distance: 0.8 mile (1.3 km) loop
Duration: allow 30 to 45 minutes
Elevation Gain: 200 feet (60 m) above Chateau
Trailhead: archway behind the Visitor Center

This historic Civilian Conservation Corp (CCC) trail climbs gradually among oak trees, over marble outcrops and through a grove of spectacular old growth trees. This is an ideal route to take from the Chateau to the main parking lot.
If you do not have the software to view this file, download it.
Did You Know?

The most complete jaguar fossil in the United States was discovered inside Oregon Caves in 1995 by crews who were working on a map of the cave.