Cave Creek Campground Closed

Cave Creek campground located at Mile Marker 16 is currently closed due to hazard trees.
No Name Trail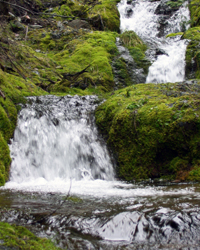 No Name Trail Map, 18 KB pdf file
Distance: 1.3 mile (2.1 km)
Duration: allow 45 minutes to 1 hour
Elevation Gain: 250 feet
Trailhead: archway behind the Visitor Center
Walk underneath the covered bridge on the No Name trail which follows Cave Creek, crosses the creek, and then does a steep climb back up to the other end of the Monument. You can relax on the many benches along the trail and listen to the sounds of the forest. The hike is short, but steep. The scenery is beautiful, and there are two short trails which lead to two waterfalls on No Name creek. This is a good route to take back to the parking lot after a cave tour.
If you do not have the software to view this file, download it.
Did You Know?

Computer bugs, slang for something gone wrong in a program, are actually named for a real insect. In 1947, technicians working for computer scientist Grace Hopper found a moth inside her computer. The trapped moth was making the machine malfunction. Once removed, they reported that the computer was "debugged". They taped it onto her notes with a little joke that is now part of our everyday language.