Road Work, Expect Delays

ODOT will be preparing highway 46 for asphalt patching. Please use caution when traveling between the monument and Grayback Campground. Various work will be from continue until July 31, 2014.
Watch for Wildlife

Please be on the lookout for fawns on the section of Caves Highway around Caves Campground! There is at least one very young one that is using the pavement as his transportation corridor.
No Name Trail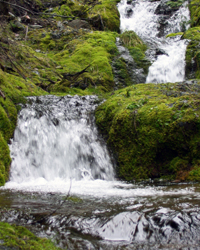 No Name Trail Map, 18 KB pdf file
Distance: 1.3 mile (2.1 km)
Duration: allow 45 minutes to 1 hour
Elevation Gain: 250 feet
Trailhead: archway behind the Visitor Center
Walk underneath the covered bridge on the No Name trail which follows Cave Creek, crosses the creek, and then does a steep climb back up to the other end of the Monument. You can relax on the many benches along the trail and listen to the sounds of the forest. The hike is short, but steep. The scenery is beautiful, and there are two short trails which lead to two waterfalls on No Name creek. This is a good route to take back to the parking lot after a cave tour.
If you do not have the software to view this file, download it.
Did You Know?

The marble rocks of Oregon Caves were once a tropical reef that was pushed under the continental edge to a depth of 12 miles and then uplifted to 4,000 feet above sea level.