Road Work, Expect Delays

ODOT will be preparing highway 46 for asphalt patching. Please use caution when traveling between the monument and Grayback Campground. Various work will be from continue until July 31, 2014.
Watch for Wildlife

Please be on the lookout for fawns on the section of Caves Highway around Caves Campground! There is at least one very young one that is using the pavement as his transportation corridor.
Lodging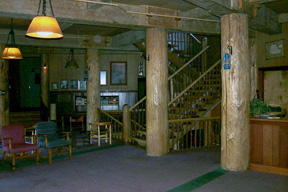 Locally Produced Items and Services
Since its opening in 1934, the Chateau has offered rustic charm in a serene wooded setting with special events offered during the off-season. It features local produce, meats, wines, micro-brews and the talent work of local artists and crafters. For more information visit the Oregon Caves Chateau website or phone (541) 592-4440. For reservations phone (541) 592-3400 or toll free at 877-245-9022.
You will find local fare in the dining room and locally crafted gifts and works of art in the gift gallery, as well as locally produced furniture, soaps and shampoos in your hotel room; even the uniforms worn by the Chateau employees are made locally. By encouraging outlets for local products, the Oregon Caves Chateau hopes to make Illinois Valley an even nicer place to live.
The Oregon Caves Chateau is managed by a local nonprofit group, the Illinois Valley Community Development Organization. They use revenues from the operation of the Chateau to write grants and assist with programs that benefit the local community.

Did You Know?

One of the largest cave restoration projects in the nation occurred at Oregon Caves during the 1980s and 1990s. Furthermore, most of the work was done by volunteers! Volunteers still make an important contribution to the park. Learn more about current volunteer opportunities at Oregon Caves. More...