Are you dreaming of an Oregon Caves adventure?

We want to help you plan your visit!
Get ready for stalactites and stalagmites. Springtails and Harvestmen. Forests and lakes. Historic District and Pleistocene fossils. Oregon Caves offers countless opportunities for discovery and we hope you will have fun, make lifelong memories, and develop a deep connection to this special place. Looking for a General Cave Tour, Off-Trail Cave Tour, Candlelight Tour, or the Haunted Candlelight Tour?

Where to begin? This "Plan Your Visit" section has all kinds of helpful tips about things to know before you come, things to do, eating and sleeping, and current conditions. Dig deeper for information about accessibility, directions, operating hours and seasons, fees and passes, permits and reservations, and brochures. If you are planning a summer visit, the perfect place to start is with Operating Hours & Seasons.
Visit the official Facebook, Twitter, YouTube, and Instagram pages for photos and news.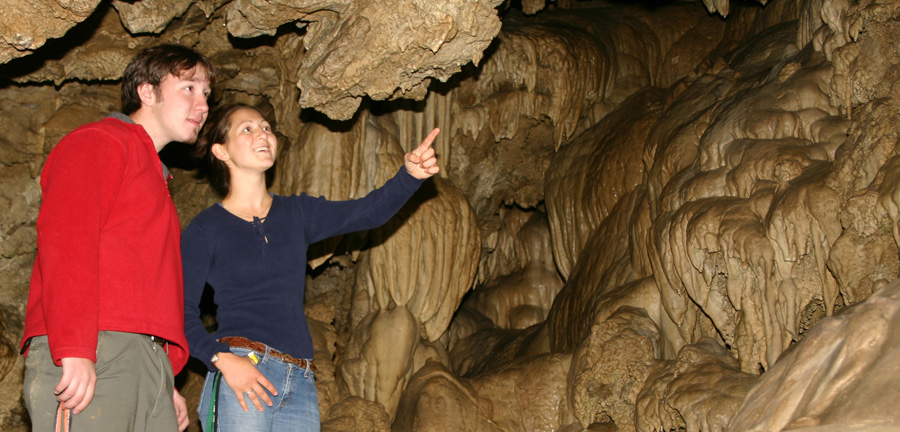 Cave Tours

"Never attempt to go through the caves without a competent guide as there a thousand places in which to get lost." Vic Smith, a guard appointed to the Caves, 1911.
Take a tour through a marble cave. Learn and discover how the geology, fossils, cave life, bats, watershed, old-growth forest, and human history make Oregon Caves significant. Children must be at least 42 inches (107 cm) tall.
Be Aware That:

Tours are considered moderately strenuous.
Visitors can only enter the cave on a scheduled tour.
No self guided tours are available and cave tour tickets are sold only on the Monument and are on a first-come, first-served basis. See Operating Hours & Seasons for more information on tour schedules.
Tours last 90 minutes.
Expect at least 15 minutes for the walk back to your car.
Wait times can reach up to two hours during the summer season (Memorial Day through Labor Day). The busiest times are between 11:00 am and 3:00 pm. Earlier or later arrival is recommended.
Cave Tour Precautions
The cave tour is considered moderately strenuous, and is not recommended for people with heart, breathing, or walking problems. The half mile (1 km) route includes more than 500 stairs (most of which are steep and uneven) and a total climb of 230 feet (70 m). The lowest passageway you will have to duck under is about 45 inches (about 1 m) tall. Visitors have the option to leave the cave 45 minutes into the tour.
The first room of the cave is accessible to visitors using wheelchairs. Canes or walking devices must have stem diameters greater than one inch. For more information, please visit Accessibility.
Traveling with Children?
Children must be at least 42 inches (107 cm) tall and be able to demonstrate their ability to climb a set of test stairs, unassisted, to go on the full tour of the cave. Children may not be carried through the cave and childcare services are not available. There are a variety of activities that children of all ages can participate in, including Junior Ranger program, multiple hiking trails, and outdoor Ranger-Led programs.
What to Bring for the Tour
Warm clothing. The cave is 44 degrees Fahrenheit (7 degrees Celsius) year round, the temperature of your refrigerator!
Good walking shoes. Please do not wear open-toed shoes, flip-flops or sandals without a supportive strap because the trail surface is uneven, slippery, and wet.
Optional: camera. Cameras must be on a strap or be able to slip easily into a pocket. Avoid cameras that are carried loose because they can easily be dropped in the cave. Taking pictures with flash is allowed in most areas of the cave but your ranger will ask you not to take photographs in areas where bats are known to roost. Taking pictures of sleeping bats can disturb them and possibly cause serious harm to them.
What NOT to Bring for the Tour
Flashlights. The cave is lit and rangers carry flashlights.
Backpacks, large purses and tripods. These are not permitted in the cave due to low ceilings and narrow passageways. Leave them in your car or check them in at the visitor center.
Anything worn or used in a cave or mine east of the Rocky Mountains or a cave or mine in Europe. As of March 2011, this measure is in place to prevent the spread of the fungus linked to white-nose syndrome, a fatal disease in bats.
Your pet. If you can, leave your pets at home. If you are traveling with your pet, bear in mind that the shade will move while you are inside the cave, and shade is limited.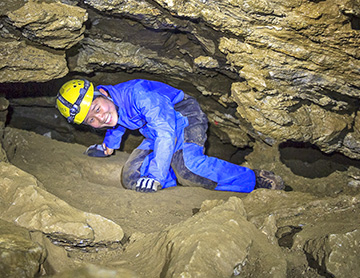 Off-Trail Caving Tours -summer schedule only

Click here for Off-Trail Tour reservations (recreation.gov site).
An Introduction to Caving
Experience the wondrous, wild areas of Oregon Caves National Monument off trail! Trained guides will teach you caving techniques, cave etiquette, and bring you face-to-face with the marble structure of Oregon Caves. This three-hour experience through tight squeezes and crawls will challenge and exhilarate you!
The Off-Trail 2015 season has concluded.
Fees and Cancellations
The cost is $45 per person. You must reserve a tour in advance and space is limited to 8 per tour. To begin the reservation process click here (recreation.gov site).
Should you need to cancel your reservation click here.
About the Off-Trail Experience
This is a very strenuous, adventurous experience. Scramble boulders, belly crawl, negotiate uneven rock piles, and squeeze yourself through confined cave passages as small as 11 inches by 19 inches. The only source of light is your caving headlamp!
Help Protect Our Bats!
White-nose syndrome is devastating bat populations in eastern North America. To avoid spreading this fungus to Oregon Caves, do not bring clothes, boots, or equipment used in a cave or mine east of the Rocky Mountains in the US or Canada or a cave or mine in Europe. Even if the item has been washed, there is still a risk. Do not bring it.
We Provide
Helmet, headlamp, gloves, kneepads, elbow pads, coveralls, and a souvenir bandana will be provided. To protect our bats, no outside cave gear is permitted.
Mobility Limitations
This is an intense tour both physically and mentally. You will be climbing and descending over uneven surfaces that require upper body strength and good balance. This tour is not recommended for persons with a history of heart, respiratory, back, shoulder or knee problems, joint complaints, vision difficulties, if you are prone to panic attacks or claustrophobia, or if you are pregnant. All participants must be at least 5 feet tall.
Minimum Age
Participants must be at least 15 years of age and at at least 5 feet in height. Youth ages 15 - 17 need a signed waiver to attend the tour.
Preview the Off-Trail Adventure

Loading the player...

Oregon Caves Off Trail Tour

Preview the safety hazards of the off-trail route. This short video shows the uneven terrain of the off-trail tour.

Duration:

2 minutes, 9 seconds

Credit/ Author:

NPS/Cedar Cosner

Date created:

2013-11-01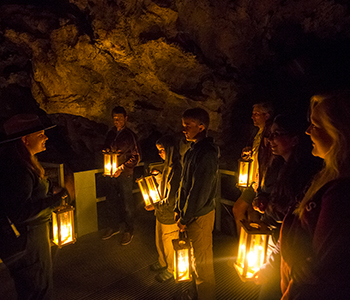 NPS/Christopher Willis
Candlelight Cave Tours - summers only
During Fridays and Saturdays at 6:30 pm in the summer, ages 8 and over, the last tour of the day is conducted by candlelight. This gives visitors a chance to see what early explorers of the cave might have seen as they went from room to room with a candle.
Haunted Candlelight Tours- October only
Looking for a Halloween haunt? You'll get goose-bumps on the Haunted Candlelight tour as you hear spooky stories of local history;walk amongst the bats and spiders, and discover the lesser known tales of these dark caverns.
Haunted Candlelight Tour Offered Friday, October 30 and Saturday, October 31, 2015. Tour starts at 4 pm and is limited to 12 people.
Children must be over the age of twelve (12) to participate, and those ages 16 and under unaccompanied by an adult must have a parental release form signed on site. The tour is moderately strenuous and not recommended if you have any issues with balancing while walking, respiratory problems, or heart conditions.
Be Aware of What Not to Bring
On this Haunted Candlelight tour, cameras will not be allowed for safety purposes. Also, please do not bring anything worn or used in a cave or mine east of the Rocky Mountains or a cave or mine in Europe. This measure is in place to prevent the spread of the fungus linked to white-nose syndrome, a fatal disease in bats.
Costumes are allowed provided fabric and makeup are not at risk of touching or coming off in the cave (no trailing fabric, fake tails, glitter, loose fringe, etc. - your tour guide will notify you if she has doubts).
Other Important Information

The cost is $10.00 per person.
Space is limited and not guaranteed.
No reservations will be accepted. Please plan accordingly!
Also, be aware of winter weather predicted.
Tours may be canceled due to road conditions.
Don't miss this rare opportunity to see the haunted cave. Discover, explore, and experience your America!