From I-5
Take exit 58 to merge onto NE 6th St/OR-99/Redwood Hwy
Continue to follow Redwood Hwy (3 miles)
Turn right at US-199 to Cave Junction (28 miles)
Turn left on OR-46 (a gas station is on the corner)
Follow OR-46 for 20 miles to the Monument
From Crescent City, California
Take a left at US-101 (4 miles)
Take exit 794 to merge onto US-199 toward Grants Pass/I-5 (49 miles)
Turn right at OR-46
Follow OR-46 for 20 miles to the Monument
The last 10 miles are narrow, steep and winding. Upon arrival at the Monument, please drive no faster than 10 miles per hour. Travel trailers and large RVs are not recommended beyond Grayback campground (mile post 12) due to the winding road.
*Please Note

If you use GPS or get directions not provided by NPS you will be given directions to Oregon Caves that is the shortest distant--by use of Forest Service roads from Williams, Oregon. This route is NOT recommended. The road at times is one-lane, not paved, and sometimes not clearly marked. You will need a vehicle with 4-wheel drive. Although this route is shorter, it will ultimately take you longer to reach Oregon Caves.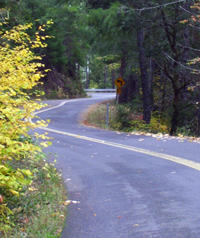 Travel Time
The last 10 miles up to Oregon Caves are narrow and winding. It is extremely important that you stay in your own lane. There are many blind corners. Watch for traffic crossing into your lane and watch out for wildlife. It could take you up to 60 minutes to reach the Caves from the intersection of Redwood Highway and Caves Highway. The last seven miles to the caves are especially twisty and winding. Car sickness is a definite possibility.

Be sure to give yourself plenty of time to get to the Monument without feeling rushed to catch the last tour of the day. It could take you up to 30 minutes to reach the Monument from Grayback Campground which is located at mile post 12, seven miles from Oregon Caves.
Please note, if you travel to the Monument with an electric vehicle, we don't currently have the facilities to charge or plug your vehicle.