Haunted Candlelight Tours

Haunted Candlelight Tours Offered Sunday, October 26 through Friday, October 31, 2014. The tour begins at 4pm and are first come first serve. The tour is limited to 12 people per group. Last regular cave tour will be at 3pm.
The Big Tree Trail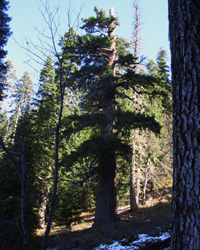 Big Tree Trail Map, 138 KB pdf file
Distance: 3.3 miles (5.3 km) loop, 1.3 miles (2.1 km) to Big Tree
Duration: allow 2 to 3 hours
Elevation Gain: 1,100 feet (335 m) from archway
Trailhead: archway behind the Visitor Center
This is a great afternoon hike. This hike takes about half a day to complete because it is quite a steep climb. This trail takes hikers through beautiful scenery, mountain meadows, and past the widest girthed Douglas fir tree known to exist in Oregon.
If you do not have the software to view this file, download it.
Did You Know?

Scorpions fluoresce or glow under ultraviolet (UV) black light. They can glow electric green or blue. Scorpions fluoresce because they contain a fluorescent protein in the upper layer of their exoskeleton. This layer is like your fingernail, but even more protective and tough. The special protein inside is thought by scientists to serve as an ultraviolet sensitivity mechanism, perhaps allowing the scorpion to avoid burning itself by staying exposed too long to damaging light levels.