Cave Tours Closed for Season

Cave Tours are closed for the winter. Tours will resume April 26, 2014. All trails on the monument remain open.
Road Work

Crews are removing brush along highway 46 beginning in the lower parking lot and moving down the highway. Work is scheduled to last until April 20, 2014; expect delays.
The Big Tree Trail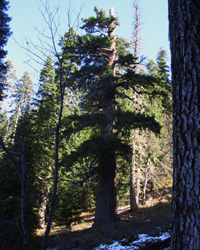 Big Tree Trail Map, 138 KB pdf file
Distance: 3.3 miles (5.3 km) loop, 1.3 miles (2.1 km) to Big Tree
Duration: allow 2 to 3 hours
Elevation Gain: 1,100 feet (335 m) from archway
Trailhead: archway behind the Visitor Center
This is a great afternoon hike. This hike takes about half a day to complete because it is quite a steep climb. This trail takes hikers through beautiful scenery, mountain meadows, and past the widest girthed Douglas fir tree known to exist in Oregon.
If you do not have the software to view this file, download it.
Did You Know?

The marble rocks of Oregon Caves were once a tropical reef that was pushed under the continental edge to a depth of 12 miles and then uplifted to 4,000 feet above sea level.