Road Work, Expect Delays

ODOT will be preparing highway 46 for asphalt patching. Please use caution when traveling between the monument and Grayback Campground. Various work will be from continue until July 31, 2014.
Watch for Wildlife

Please be on the lookout for fawns on the section of Caves Highway around Caves Campground! There is at least one very young one that is using the pavement as his transportation corridor.
The Big Tree Trail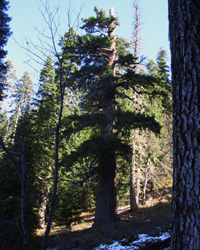 Big Tree Trail Map, 138 KB pdf file
Distance: 3.3 miles (5.3 km) loop, 1.3 miles (2.1 km) to Big Tree
Duration: allow 2 to 3 hours
Elevation Gain: 1,100 feet (335 m) from archway
Trailhead: archway behind the Visitor Center
This is a great afternoon hike. This hike takes about half a day to complete because it is quite a steep climb. This trail takes hikers through beautiful scenery, mountain meadows, and past the widest girthed Douglas fir tree known to exist in Oregon.
If you do not have the software to view this file, download it.
Did You Know?

Up until 1922 the only way to get to Oregon Caves was on a 12 mile trail from the town of Williams, Oregon. Once at Oregon Caves visitors explored the cave and spent the night at a camp outside the entrance to the cave.