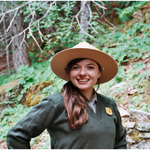 NPS
Terah Van Dusen
Ranger Terah is originally from Northern California. In more recent years she has lived in Arizona and Florida before returning to the Pacific Northwest in May, 2009 for her first season with the National Park Service.
Terah says that it is important in life to realize that one creates their own destiny, given the power of thought, and therefore we have the freedom to dream big. She envisioned herself in a forest, far from a city, where everyday she would be blessed by the amusements of wildlife. She has found this place and much more.
What she enjoys most about being a ranger is being the "go-to" nature person. She enjoys the challenge of studying Geology. She enjoys fostering the link between humans and nature. She enjoys the solitude of the monument.
Only time will tell what her future holds, but her current intentions include completion of a novel, continued residence in a country setting, particularly one with plenty of rivers and streams nearby, and several people to share love with.