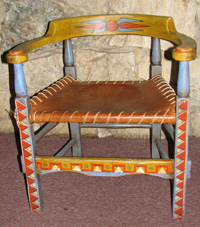 NPS
Monterey Furniture
The Monterey furniture within the Chateau is unique. It was constructed by the Mason Manufacturing Company of Los Angeles and is all hand-made, mostly from Oregon alder wood. Each of the craftsmen had their own design, generally a floral pattern, which they painted on many of the pieces they made. After all these years the designs have either faded or have been eliminated during refurbishing, but see if you can find the original patterns on your chair as you sit before the great stone fireplace drinking a cup of hot tea after a tour in the cold cave.
Please take a few moments to walk through the Chateau, even if you are not staying there, and see the beautiful interior of the building. As you do, listen to the voices of the past speak to you from every piece of wood and stone. Look around and thank the people who envisioned, built, and operate(d) to become an important part of the historical and cultural legacy of southwest Oregon.
For more information about the Chateau, please call (541) 592-3400 or visit their .