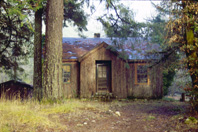 The CCC worked at the Monument between 1934 through 1941. They established camp Oregon Caves near present-day Grayback campground.
The CCC worked inside, outside, and around the caves.
Inside the cave they improved the cave tour route stairs, removed "headache" rocks, and constructed the Connecting Tunnel to allow easier access deeper inside the cave.
Outside the Monument, projects included telephone line construction, repairs to Caves Hwy (Hwy 46), construction of the entrance sign, picnic areas, rock retaining walls and campfire circle masonry work. They were also involved in tree planting and landscaping in developed areas.
Around the Monument, the CCC also helped with trail maintenance and repair of Big Tree, Cliff Nature, No Name, and Exit Trail.
We are so thankful for these young men!