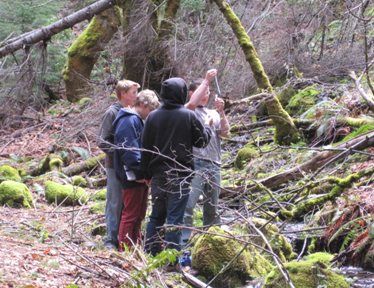 NPS
Due to federal budget cuts this program is not offered in 2014. We encourage you to see what education programs are available via our Watershed program partner, the Siskiyou Field Institute. To schedule a field trip or find a program please visit their website and use the contact information presented: http://www.thesfi.org/Page.asp?NavID=663.
Watershed curriculum remains available to educators for their use as teaching tools.
Thank you and hope to see you in the Cave this year.
Oregon Caves partnered with Siskiyou Field Institute to provide Watershed: Through the Mountains and to the Valley
"I have toured the caves several times with my family but never with a clipboard, journal, and flashlight around my neck. Testing the water and looking at the rock formations as a scientist was more fun than [I had] as a tourist!" -Anonymous narrative from a local 6th grade student
This curriculum-based program gives students the opportunity for hands-on, scientific investigations of Illinois Valley watersheds. Cave Creek, flowing from the mouth of the cave at Oregon Caves National Monument (OCNM), is a headwater tributary to the Wild and Scenic Illinois River. Deer Creek joins the Illinois River near Siskiyou Field Institute's home, the Deer Creek Center (DCC). Students compare and contrast OCNM and DCC watersheds by examining topography, geology, and waterways by conducting water quality tests, practicing the scientific method, and determining stream health.