Hurricane Ridge in Winter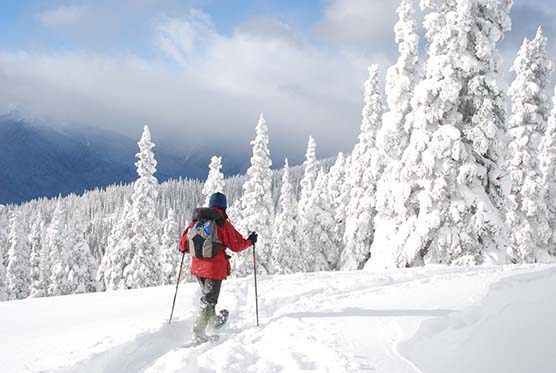 Winter is a great time to visit Olympic National Park. The summer crowds are gone and recreational opportunities are numerous.
Hurricane Ridge showcases one of the many diverse facets of winter on the Olympic Peninsula. Although relatively low, the Olympic Mountains receive a great deal of moisture. In winter, much of is falls as snow, particularly above 3,000 feet in elevation. The typically snow-covered Hurricane Ridge provides opportunities for snowshoeing, cross-country and downhill skiing, snowboarding, tubing and more.
During the winter season, the Hurricane Ridge Road is open Friday through Sunday (and holiday Mondays), weather and road conditions permitting.
Snowshoe with a Ranger
On weekends and holiday Mondays from mid December to the end of March families can join a ranger-guided snowshoe walk. This moderate walk goes less than a mile and is good for all ages. The park provides snowshoes that will fit everyone, from 4-year olds to adults. Schools, scout or community groups can reserve their own walk. For further details and exact dates, as well as more winter-related information, check the park's newspaper, The Bugler, which includes schedules, a map, details on equipment rentals, and safety reminders.
Winter Travel
With the arrival of snow in the Olympic Mountains, there are many new recreational opportunites, as well as new challenges. Severe weather, icy or snowy roads, changing snow conditions, and winter rains can quickly alter any winter trip. Visitors traveling to the park should be prepared for winter driving conditions.
All vehicles are required to carry tire chains when traveling above the Heart O' the Hills entrance station during the winter season. This requirement applies to all vehicles (including four-wheel-drive), regardless of tire type or weather conditions. Click here for additional information.
Hurricane Ridge Road may close early or remain closed during the entire day due to poor road conditions or severe weather. Call the Road & Weather Hotline at 360-565-3131 for current information or click here for the daily report. Conditions, updates and closures are also posted to Twitter at: twitter.com/HRWinterAccess.
Getting There
Hurricane Ridge is located 17 miles south of Port Angeles, at the end of Hurricane Ridge Road.
Entrance fees are collected at the Heart O' the Hills entrance station whenever the road is open. Olympic's seven-day entrance pass, which allows a private vehicle to enter any of the park's roadways, costs $20. The Olympic National Park Annual Pass, good for one year after the purchase date, costs $40.
Hurricane Ridge Visitor Center
The Hurricane Ridge Visitor Center is usually open when the road is open, with restrooms, exhibits, a park film, and warming area. A foyer and restroom are always open. See the Bugler for exact dates.
Hurricane Ridge Snack Bar and Rental Shop
From mid-December to the end of March, the Hurricane Ridge Snack Bar and Rental Shop is open from 10:00 a.m. to 4:00 p.m. weekends and holiday Mondays. See the Bugler for exact dates.