Olympic Hot Springs Road Closed

The Elwha Valley's Olympic Hot Springs Road is closed to public entry beyond the Altair Campground during removal of the Glines Canyon Dam. Olympic Hot Springs is not accessible from the Elwha.
Changes in Winter Activity Schedule Announced

Budget uncertainties lead to changes in visitor services this winter. More »
Guiding in the Park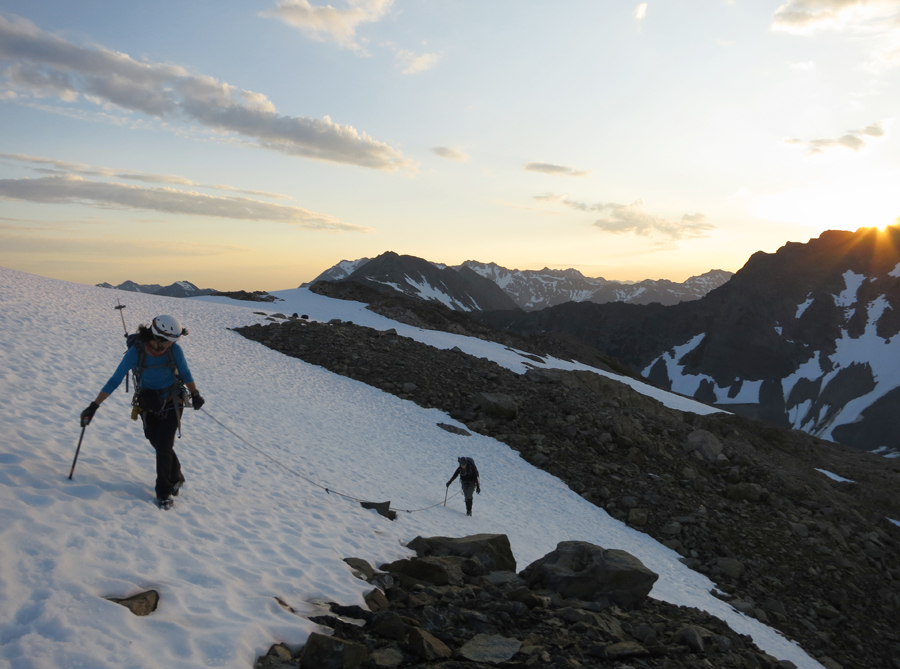 Tyler Reid - Pacific Alpine Guides
Please contact us if your organization employs paid staff and are planning to bring students or clients into Olympic National Park. Your organization will need a Commercial Use Authorization (CUA) or a Special Use Permit (SUP) depending on the type of organization you are with. Park staff is eager to help you share the park's unique wilderness classroom with your students or clients.
Commercial (For-Profit) Groups
A "Commercial Use Authorization" (CUA) authorizes for-profit companies to guide clients overnight in Olympic's backcountry. Completed applications must be received by the park's concessions office by May 1st each year.
Non-Profit Groups
If your organization is a school, college or is a 501(c)3 or other non-profit your group will need to obtain a Special Use Permit (SUP). Completed applications must be received by the park's concessions office by May 1st each year.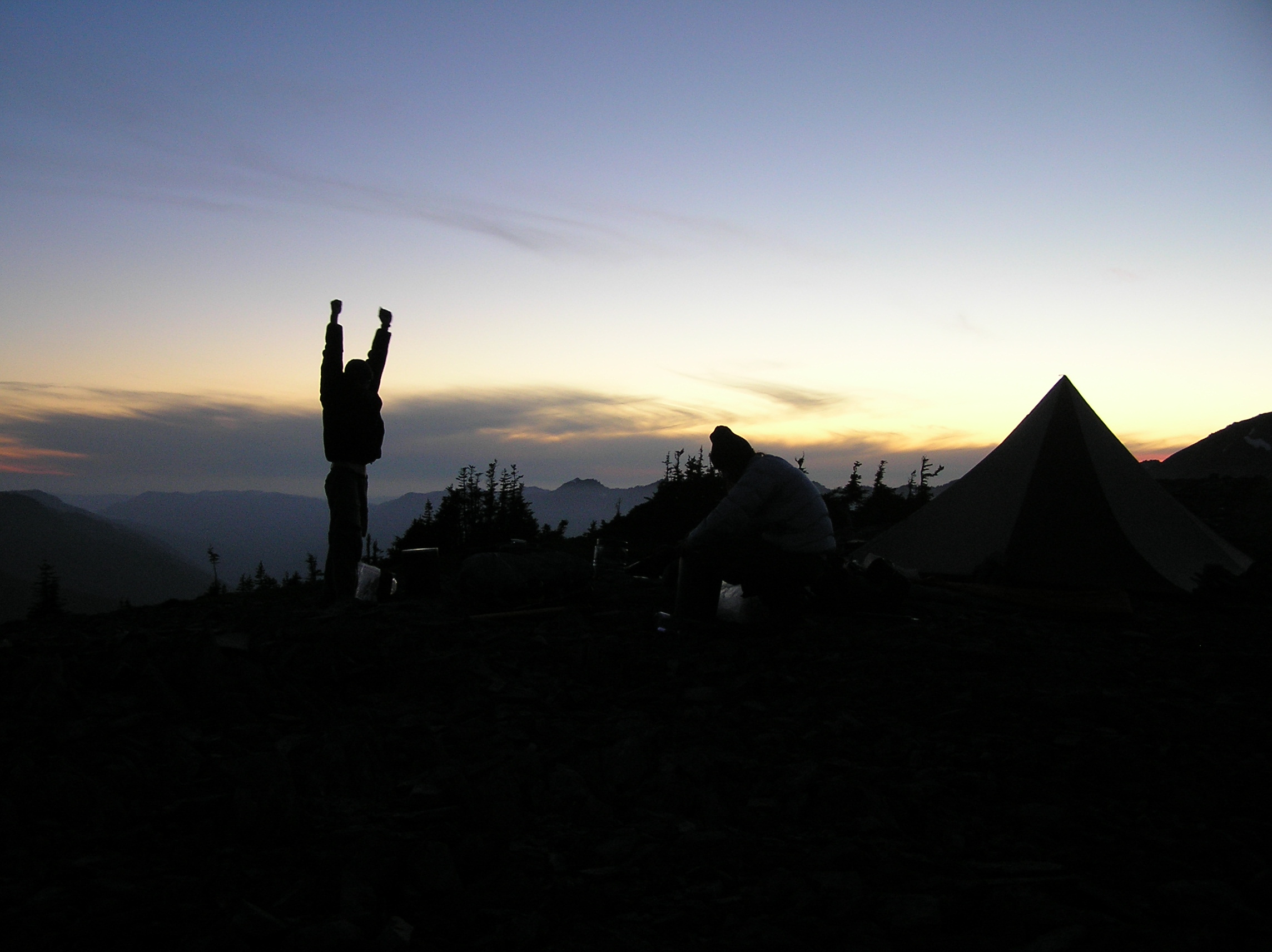 The Olympic Wilderness offers exceptional opportunities for solitude, challenge and adventure. Guided trips can offer park visitors an opportunity to increase their wilderness skills and knowledge. Students and clients can learn more about themselves and their natural world in the park's wilderness.
Important information about reservations & quota areas:
All trips run by CUAs and SUPs must be made with the Wilderness Camping Permit Request form. For quota areas, reservations are taken March 15 through September 30. Reservations are not necessary in non-quota areas, but all permit itineraries must be set up using the Wilderness Camping Permit Request form. Permits must be set up through the Port Angeles WIC with this form.
Camping is permitted only in designated sites within quota areas (red camps on map). Groups with 7-12 persons must reserve group sites in quota areas. See the reservations page for more information.
Campsites at larger camp areas are not individually assigned but are available to permit holders on a first come, first served basis.
In quota areas, deviation from your permit itinerary is not allowed, except in cases of emergency.
In other areas (

brown campsites

on Trip Planner Map), permits are not limited. CUAs and SUPs are still required to make these permits through the Port Angeles WIC with the Wilderness Camping Permit Request form.
Bear canisters are the only method of food storage for CUAs and SUPs. Bear cans are not reservable. Although these are loaned at some ranger stations, most of these will not have sufficient bear canisters for large groups.
Permit Form Notes:
Please re-read your CUA or SUP contract before making your itinerary. Check to make sure you are following the requirements of your contract.
Your CUA or SUP must be completed and signed before you send Wilderness Camping permit requests.
You must send copies of CPR and First Aid cards to Lisa Hilt and the WIC at least 30 days prior to the start of each trip. Food Handler's Permits are also required for trip leaders who cook for clients. You must also bring those medical certifications with you on your trip. A permit will not be issued to groups with leaders without physical proof of their valid certifications.
Trip leader names must be listed on the Permit Request form with the expiration dates of their medical certifications.
Permit requests are due 2 weeks prior to the start date of trips. Permit requests received with less notice may not be processed due to limited staffing. Without the permit, the trip may not be run.
Staff must include one trip leader or guide for each eight visitors (1:8) or fraction thereof, with a maximum group size of 12 persons.
Do not submit form via both fax and mail. Submit only once.
Do not call to verify that we received your fax. If you do not receive a confirmation after one week, you may email us to verify that we received your request.
Forms for SUP groups submitted without payment information will be discarded.
Be sure to use the "Camp Area Map" names when you list your campsites
If you are doing more than one trip (i.e. 2 nights at Cape Alava then 2 nights at Moose Lake) you will need to submit separate forms for each trip.
If you are staying in red and brown camp areas on the same hike, please include the brown camps (the full itinerary) when you send in your reservation.
Wilderness Permit fees are non-refundable.
If you are an SUP, use the Fee Amount table below to calculate your fee. Do not add $5 to those amounts. They already include the $5 registration fee.

DO NOT submit the form via email if it includes credit card information.

This is not a secure means of transmitting a credit card number.
You will receive a reply via email as soon as we process your form or if we have questions or your trip is not possible due to lack of availability. Please be sure to check your email.
Please do not send cover letters/pages with faxed forms.
Supplemental Form for Long Itineraries


Did You Know?

Did you know that in 1988, Congress designated 95% of Olympic National Park as Wilderness. The Olympic Wilderness is a part of the National Wilderness Preservation System. More...